Apple has become stricter about enforcing its existing guidelines around vape visibility and advertising in iOS apps. To maintain our Apple App Store compliance, we are changing how vaping and cartridge products appear in the Leafly iOS app.

Unfortunately, Apple has indicated that product images for cartridges are inappropriate (for cannabis apps). What we are seeing is that cannabis apps that have been able to retain cartridge menu items are removing product images. Other cannabis apps have removed all cartridge and vape content entirely. While non-cannabis apps have also recently adjusted their experiences around cartridges or vaping products, they have been able to retain product images.

With that being said, it's important to note that your current product images will still be displayed on Android and Web menus. To ensure that consumers have enough context to make a purchasing decision, a compliant placeholder will be provided by Leafly for iOS menus.
Key changes:
Remove all 'accessory' and 'other' menu items from the iOS app
Remove 'vape' from product names
Prevent searches for vape or vape-related keywords
Replace product images for 'cartridge' category menu items with sparkle cloud and "This product image isn't permitted to be displayed." disclaimer.
Clients will not be able to upload any other image to be displayed on the iOS app. Regardless of the image you upload, if the item is a vape or cartridge our iOS app will restrict all imagery for these items due to compliance regulations.

In regards to the product image that will be displayed for all cartridge and vape items we have included a screenshot below of these changes: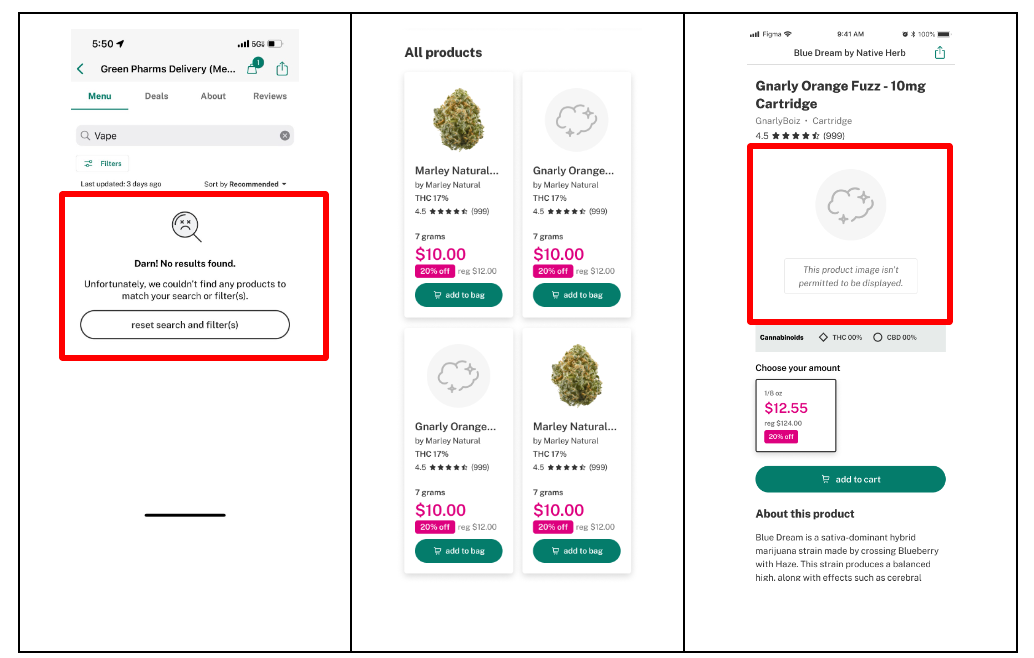 For any issues or concerns, we kindly request that you contact our support team at help@leafly.com. They will be more than happy to assist you in resolving any problems you may encounter.