Insights is a data analysis reporting tool within Leafly Biz that provides a clear understanding of the market's strain, product, content, inventory, and price. Insights allow retailers to understand the local market, compare their store to competitors, evaluate online order trends, and price with confidence. Note: Consumer insights are updated monthly
This article covers the following:
Benefits of Leafly Insights
Understand your local market

Review popular, trending strains month-over-month or year-over-year to inform your merchandising, marketing, discounting, and procurement strategies
Compare your store to the competition

Evaluate your business in comparison to the local competition by understanding top strains, stores viewed, and articles consumed by visitors to your store and retailers within the state.
Price with confidence
Build an effective, data-based pricing strategy through an easy-to-use tool that showcases the market average, market high, market low, number of menus, your price, and the delta for products in your area. Easily select the product category, unit size, brand, or specific retailers to hone in on your analysis and see where you land.
Analyze supply and demand for strains
Collect strain data to help drive your advertising and procurement strategies.
Accessing Leafly Insights
To access your Insights, first, log into your Leafly Biz Dashboard. From there, click on the 'Reports' option from your left side panel then click on 'Insights'. Insights will then open up on a new web page.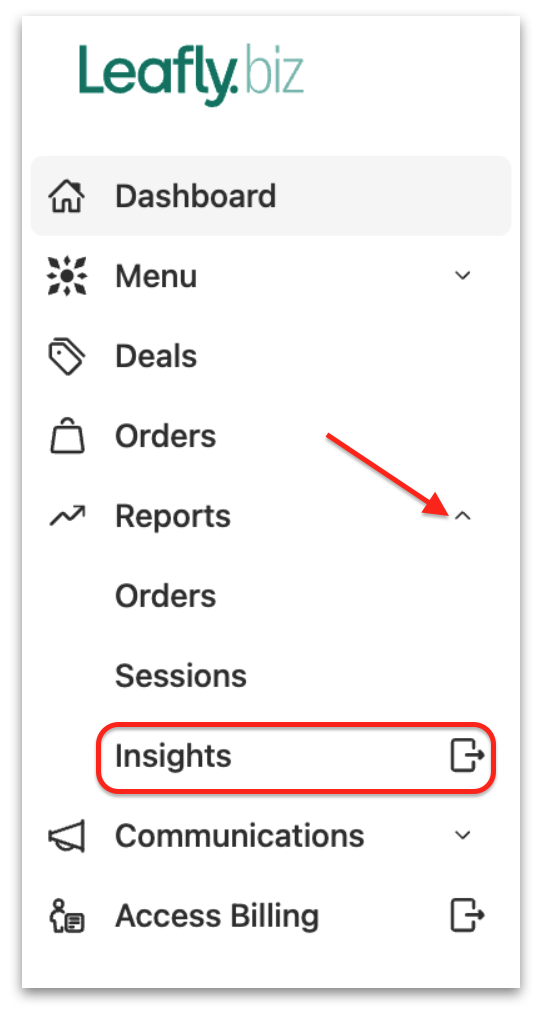 Using Insights
Leafly Insights offer 4 tabs that provide data that will help retailers understand local market data such as:
Consumer tab
On this tab, locations can view Top Ten lists of strains, stores, and articles. You can also view the number of users who have viewed each page in the lists for their store (not regional data).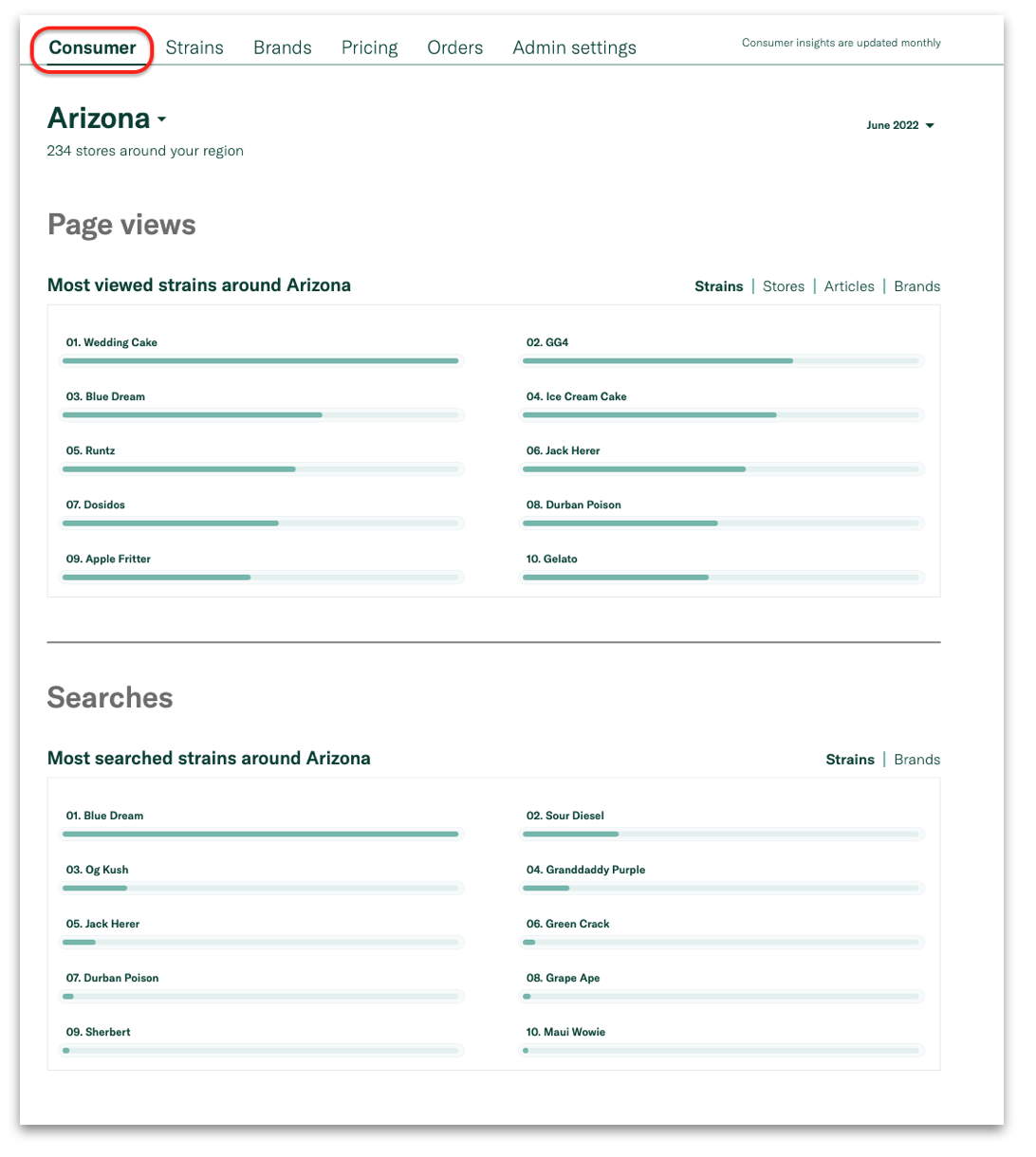 Strains tab
This tab will provide an overview of the strain data by year over year or month over month for strains in your region.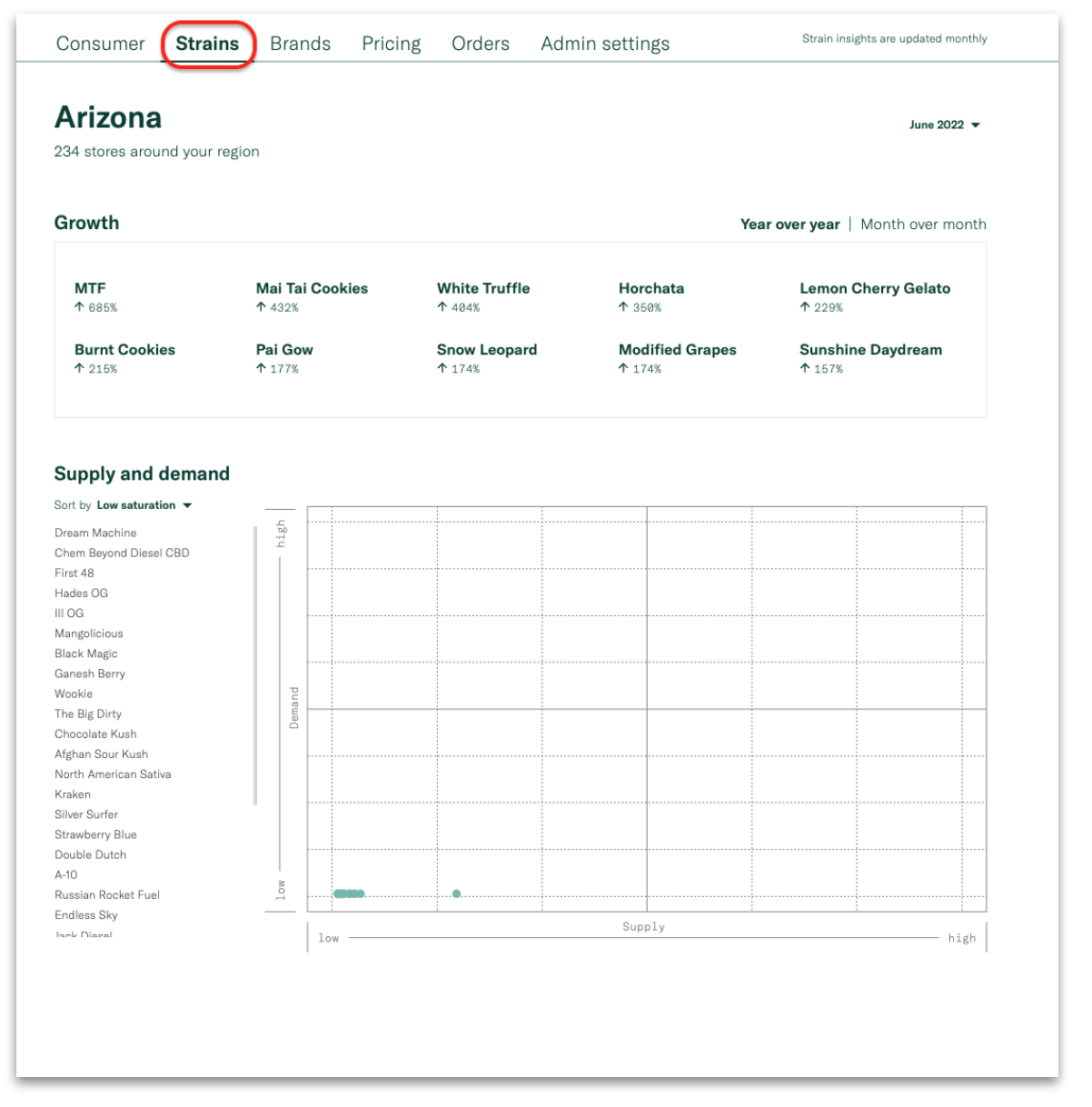 Brands tab
On this tab, you can see the trending brands year over year or month over month for your region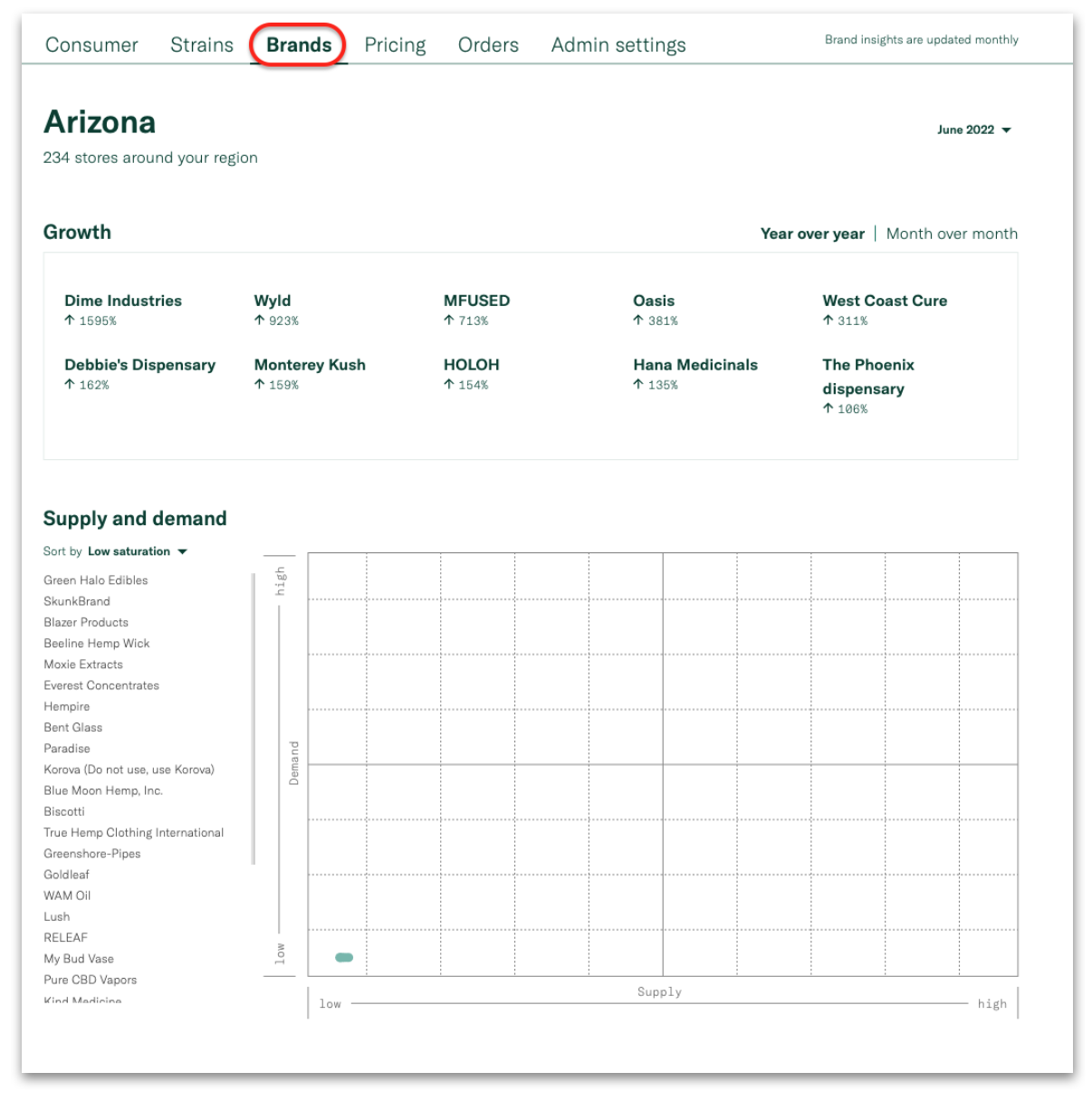 Pricing Tab
On this tab, you can view information about menu items by:
Product, Strain Name, Brand Name

Product Category

Product Subcategory
You can filter data by category/subcategory, unit size, and brand. In addition, you can search and filter results from stores in your area.
Note: Menu items need to be linked to a brand in order for products to populate.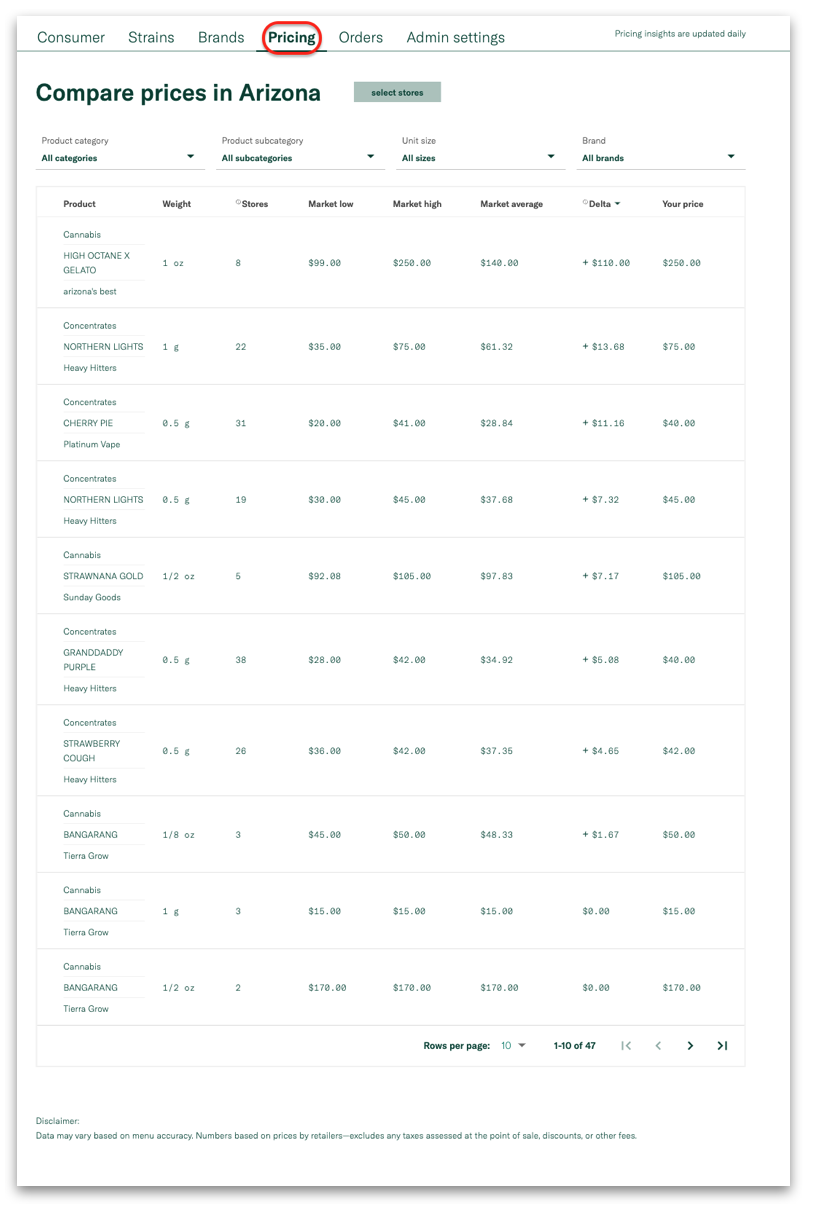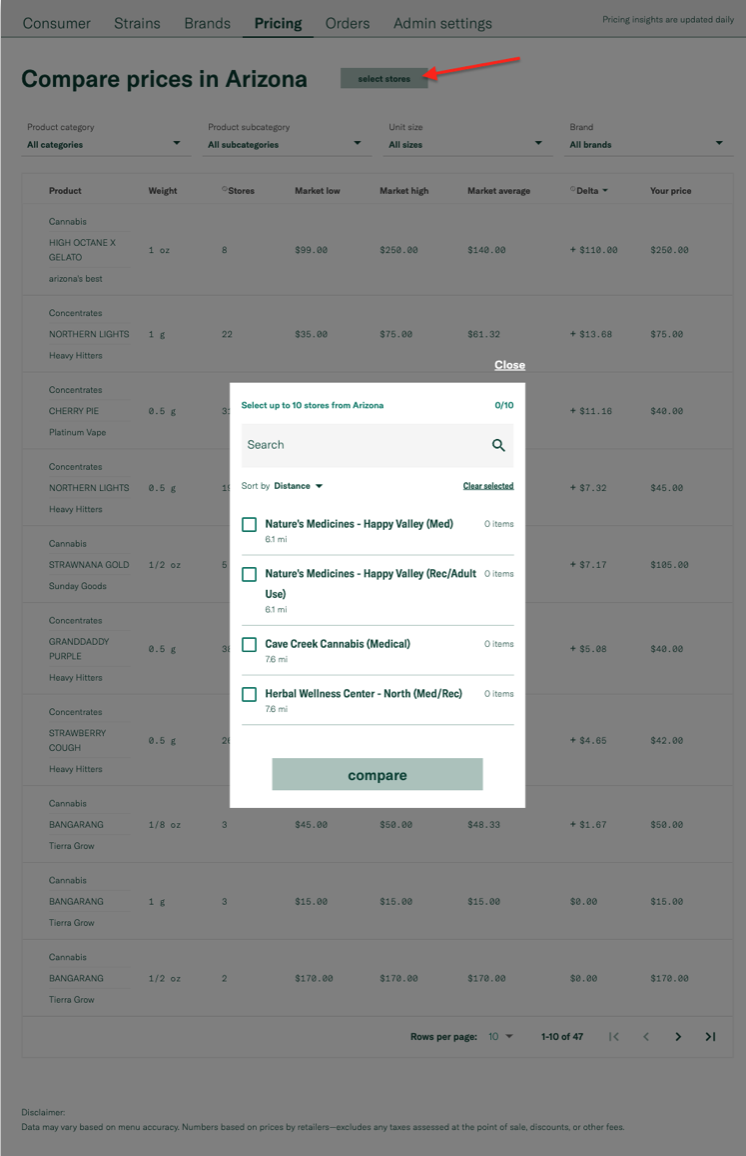 For any issues or concerns, we kindly request that you contact our support team at help@leafly.com. They will be more than happy to assist you in resolving any problems you may encounter.