There are new changes to our delivery experience for our retail partners! Leafly has made changes to give retailers more control in how you define where you will deliver to. In addition, there have been updates to delivery experiences across Leafly.com to be able to support retailers having more dynamic service areas, and implemented key improvements to delivery visibility.
Dynamic/flexible service area creation
Retailers now will create zones by drawing a polygon and/or by placing a radius on a map
Leafly will be leveraging MapBox for zone creation, which uses the same geojson technology that is leveraged by our competitors and last-mile solutions like OnFleet.
Retailers can upload geojson files that they have created previously to ensure consistency across all of their platforms/tools.
Radiuses are no longer limited to stem only from the retailer's primary location, they can now be placed anywhere on the map going forward.
Define multiple delivery service areas
Retailers can define multiple delivery zones (by drawing a polygon, or defining a radius) within a service area.
Each service area will be able to have its own order minimum, delivery fee, and delivery estimate associated with it.
Retailers can create and name multiple service areas.
Retailers will be limited to 30 service areas or less per store.
Delivery Estimate Update
Retailers will now be able to have more control over their delivery estimates. You will be able to set a range of time in minutes or provide an estimate based on day (same day, or next day).

Creating & Managing Service Areas
Getting Started
The delivery service area settings can be found in your Order Settings. To get started, log into your Leafly Biz Dashboard and select the Orders tab. Once inside the Order Dashboard complete the following steps:
Select 'Settings' from the left-side panel
Click on the 'Ordering' option

Click on the 'Delivery' tab:

Note that once on this page:
Delivery service area settings will only if delivery is enabled.
A modal will appear when this setting is first opened, giving an overview of the many ways you can create zones within their service areas.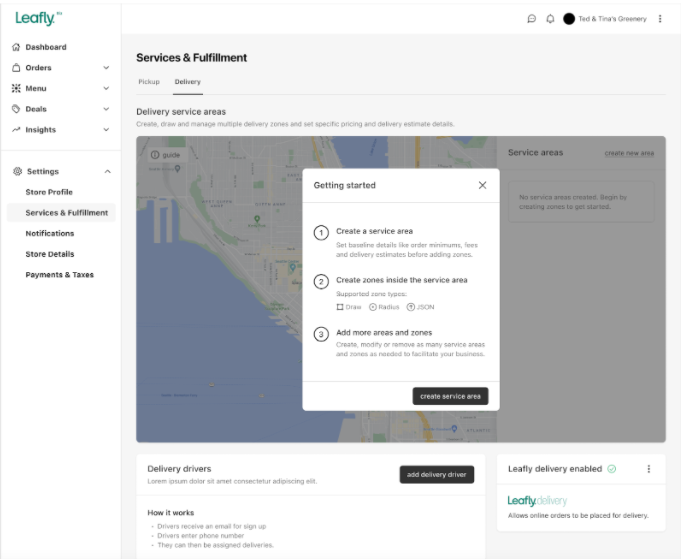 Creating A Service Area
A service area includes a few key pieces of information:
Service area name
Order minimum
Delivery fee
Delivery estimate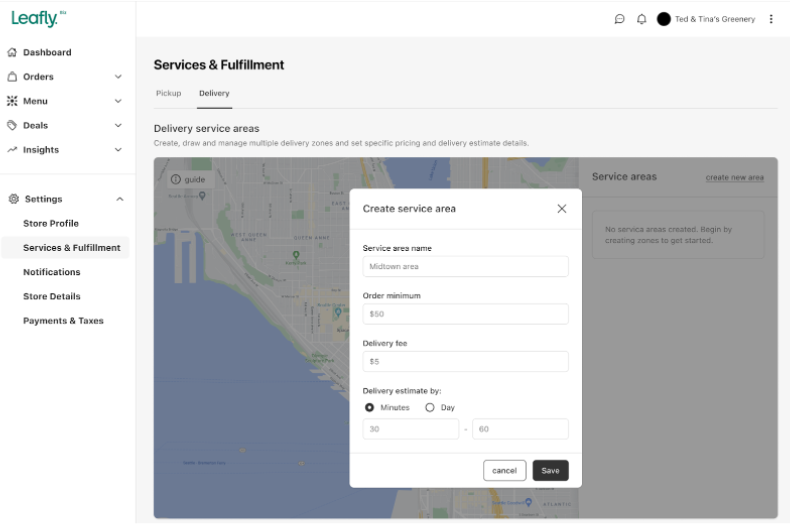 Once a service area is created, it will display to the right of the map.
The next step is for the retailer to define their delivery zones within the service area. There are three options for creating a delivery zone: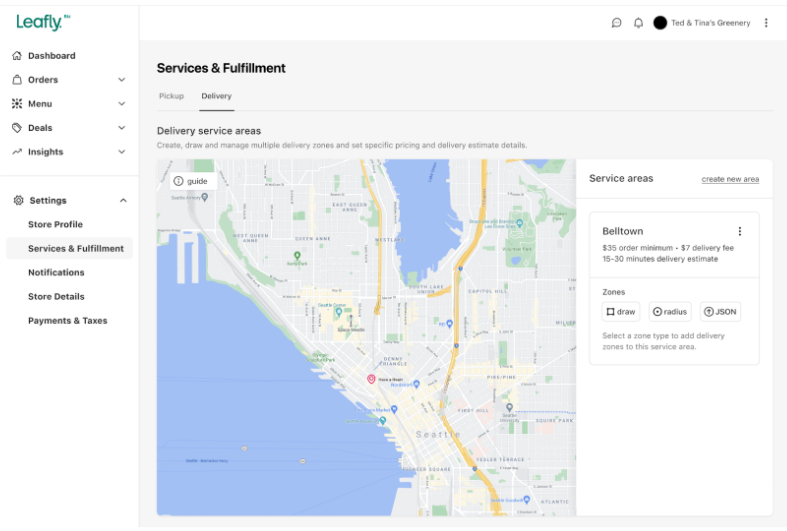 Draw Delivery Zone Service Area
If the location chooses to draw a delivery zone, they will be able to define the zone by creating a polygon on the map. To create a polygon, the retailer just needs to:
Click to draw a line
Click each corner or bend of their line or shape
When finished double-click, and then hit save and complete zone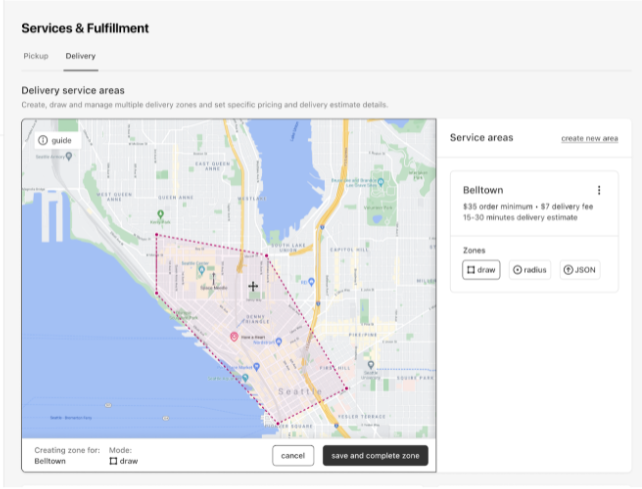 Radius Service Area
By selecting a radius, the location will be able to define the size of the radius and the placement of the radius on the map.
To create a radius, the retailer just needs to:
Click to create a radius on the map
Pull a side of the radius to expand or contract it
Drag the radius around on the map to place it in the preferred location
When finished double-click, and then hit save and complete zone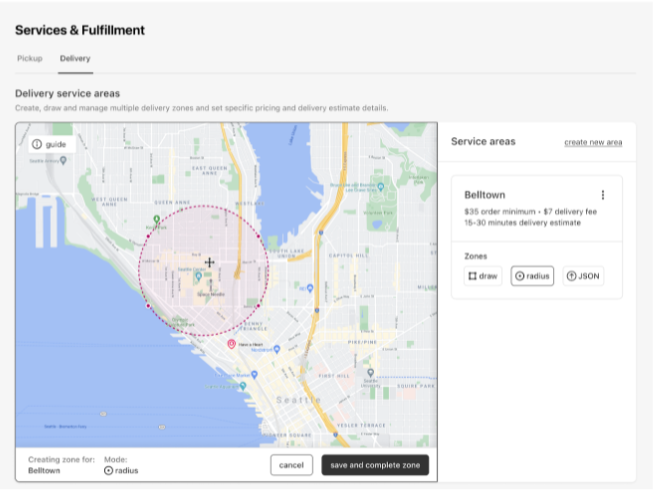 JSON Upload Service Area
JSON enables the retailer to upload a file of their predefined delivery zones to Leafly. Your location might already have its zones defined in this format if you use OnFleet, or I Heart Jane. This allows you to keep their zones consistent across platforms.
Select JSON
Select the file and click open
Click upload and save zones
Review service areas and zones on the map for accuracy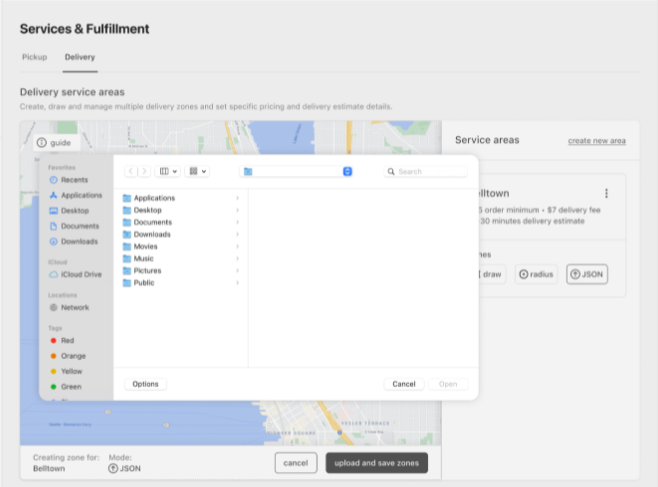 For additional assistance or questions, please use our Request Form to contact our Support Team.