Delivery Service Areas are available to those who are currently delivery enabled on Leafly. These service areas provide a dynamic and flexible way to serve your guests!
This article covers the following:
Benefits of Delivery Service Areas
Dynamic/flexible service area creation
Create zones by drawing a polygon and/or by placing a radius on a map


Upload GeoJSON files created previously to ensure consistency across all of their platforms/tools.
Radiuses can be placed anywhere on the map instead of stemming from the primary location.
Define multiple delivery service areas
Define multiple delivery zones (by drawing a polygon or defining a radius) within a service area.
Each service area has its own order minimum, delivery fee, and delivery estimate associated with it.
Multiple service areas can be created and named to be unique!


Limited to 30 service areas or less per store.
Delivery Estimate Update
Set a range of time in minutes or provide an estimate based on day (same day, or next day).

Creating & Managing Service Areas
Locating your Service Areas
Delivery service area settings can be found in your Order Settings. To get started, log into your Leafly Biz Dashboard:
Select 'Settings' from the left-side panel
Click on the 'Ordering' option

Click on the 'Delivery' tab:

Note that once on this page: Delivery service area settings will only be present if delivery is enabled.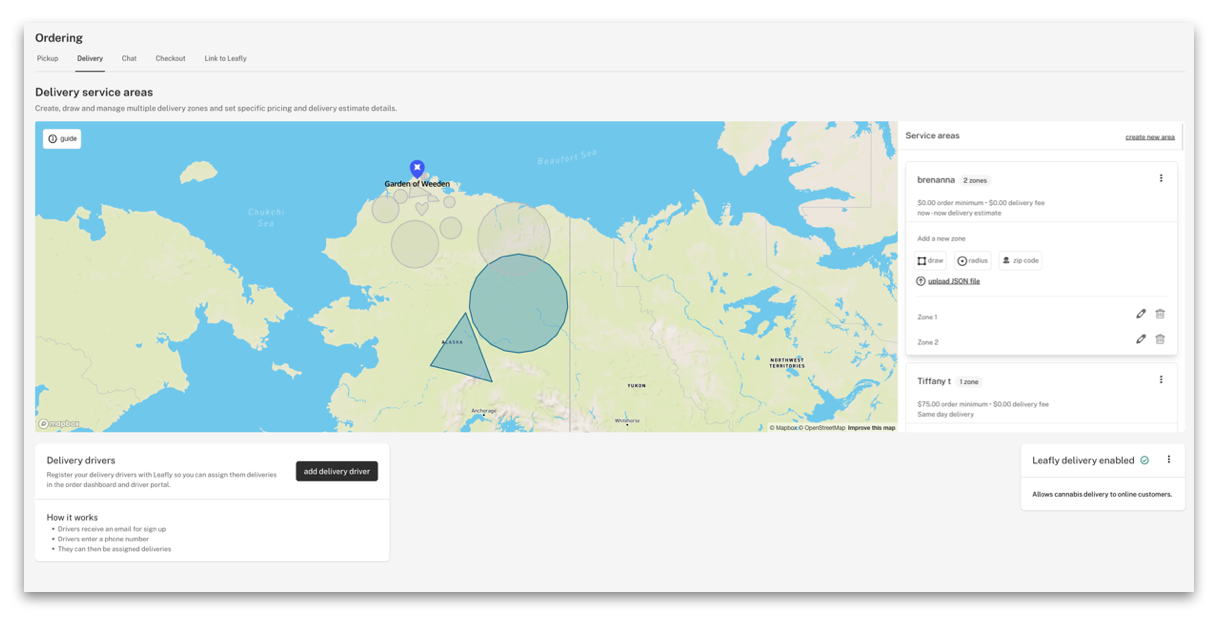 Creating A Service Area
To get started in creating a new service area, click on the
Step 1 - Filling out the Service Area Information
A service area includes a few key pieces of information:
Service area name
Order minimum
Delivery fee
Delivery Time Estimate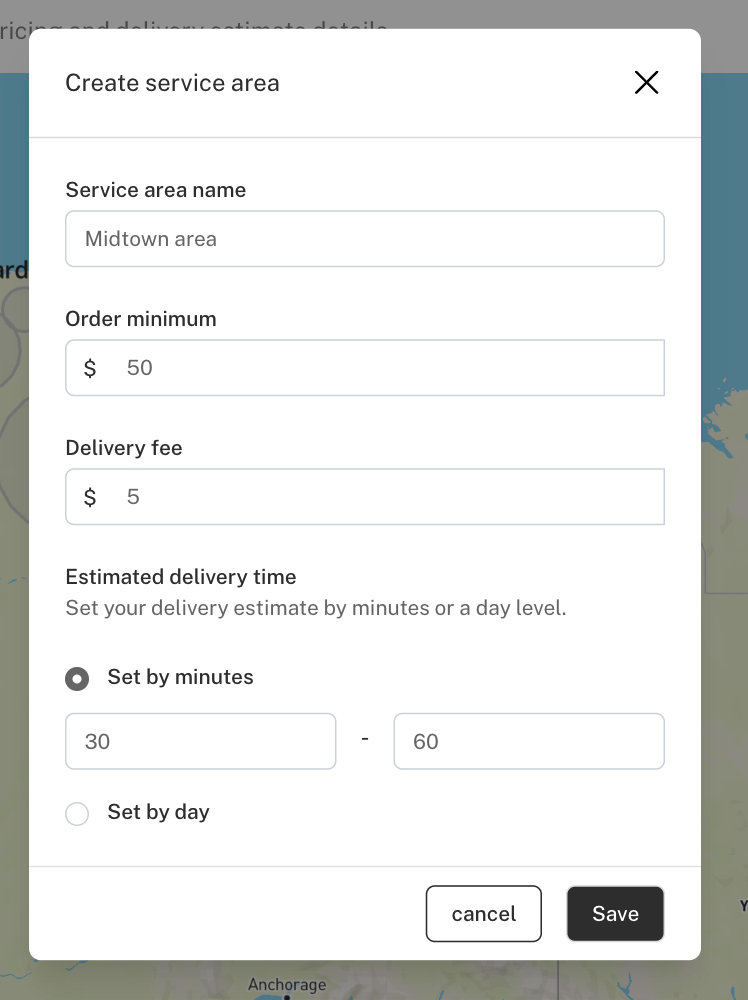 Once a service area is created, it will display to the right of the map.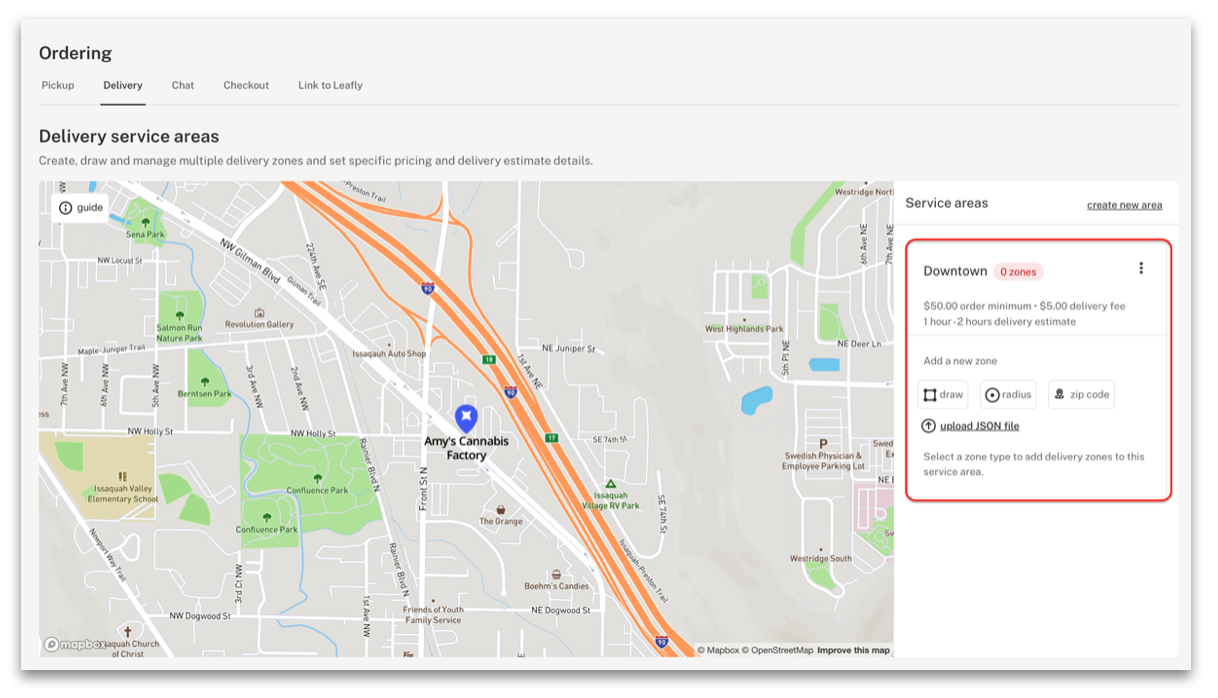 Step 2 - Defining your Service Zone
Once filling out the Service Area information, the next step is to define your delivery zones within that service area. There are four options to create delivery zones:
Draw Delivery Zone
Radius
GeoJSON file Upload
Zip Code (US Only)
Draw Delivery Zone Service Area
You can define the zone by creating a polygon on the map. Select the 'Draw' option from your Delivery Service Area: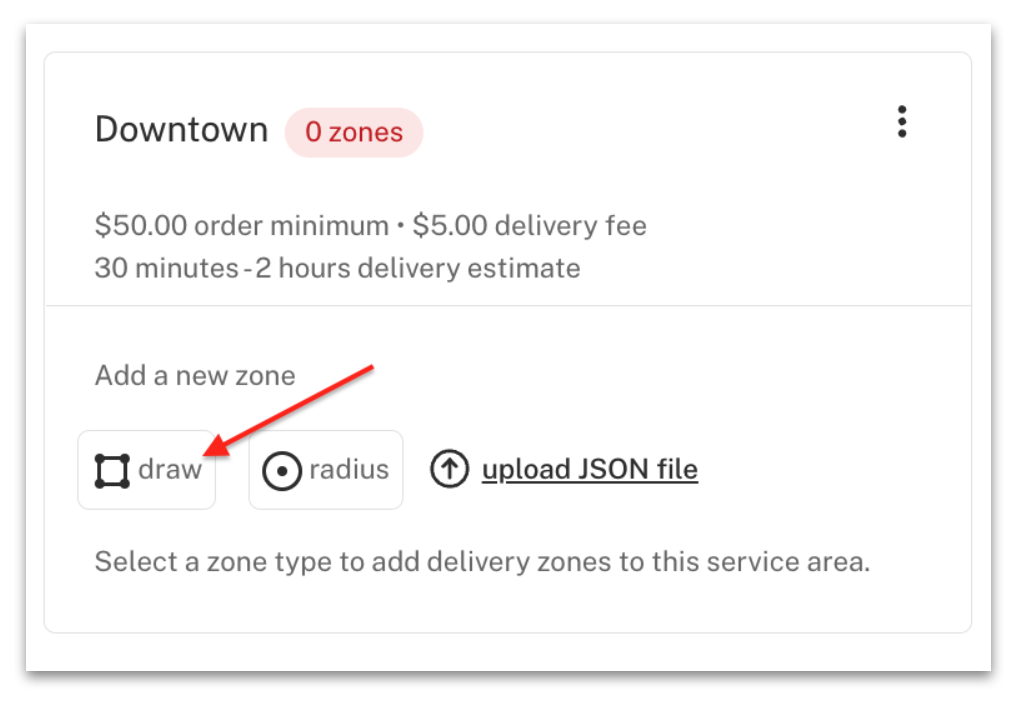 Click on the map to draw a line
Click each corner or bend of their line or shape
When finished, double-click the map
Hit 'Save and complete zone' to save these changes

Radius Delivery Zone Service Area
By selecting a radius, you will be able to define the size of the radius and the placement of the radius on the map. Select the 'Radius' option from your Delivery Service Area: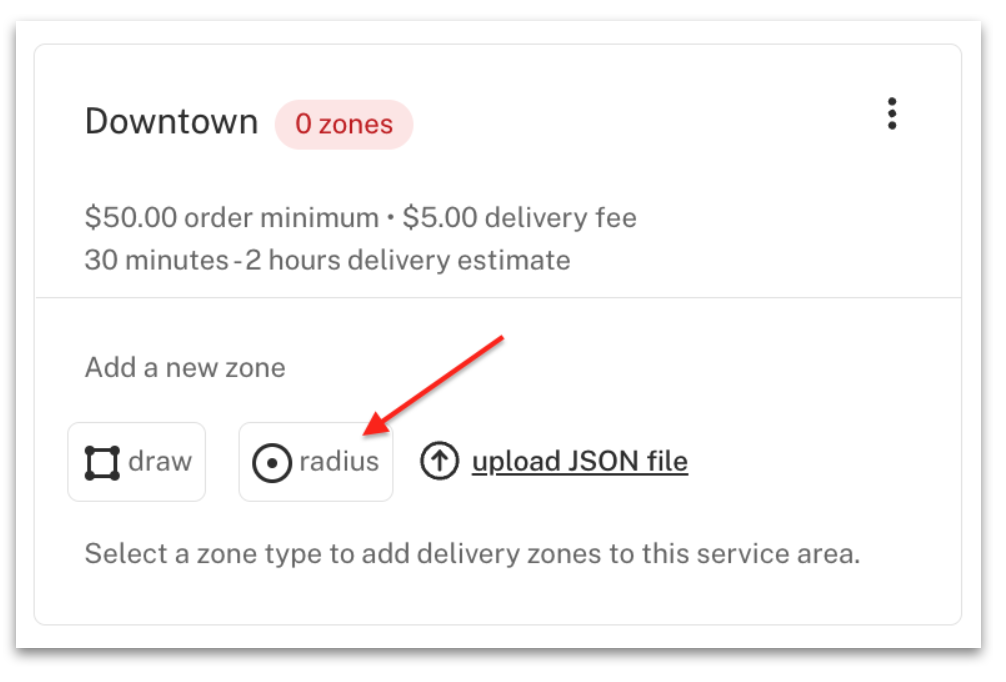 Click to create a radius on the map
Pull a side of the radius to expand or contract it
Drag the radius around on the map to place it in the preferred location
When finished double-click the map
Hit 'Save and complete zone' to save these changes
GeoJSON File Delivery Zone Service Area
GeoJSON enables the retailer to upload a file of their predefined delivery zones to Leafly. Your location might already have its zones defined in this format if you use OnFleet, or I Heart Jane. This allows you to keep their zones consistent across platforms.
You can also visit this website to create the file: https://geojson.io/#map=2/20.0/0.0
Select the 'upload JSON file' option from your Delivery Service Area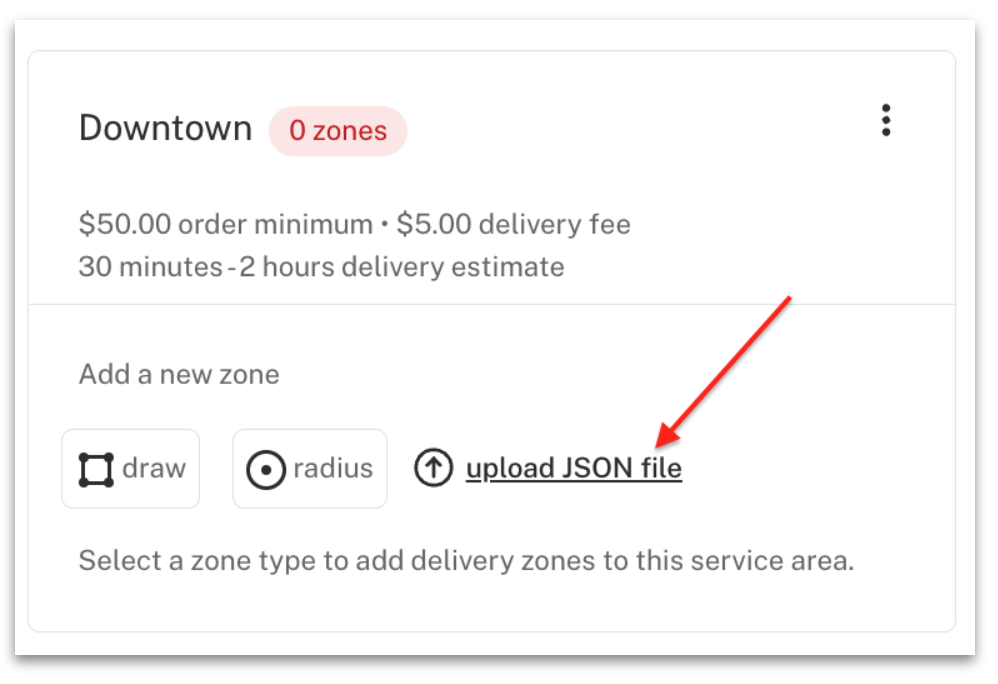 Select the file and click open
Click upload and save zones
Review service areas and zones on the map for accuracy
Zip Codes Delivery Zone Service Area
If you are located in the United States, you can enter a list of zip codes where you offer delivery to define your delivery zones.
Note: Leafly does not support PO boxes or single-building zip codes. You can verify these zip codes by visiting: https://www.zipdatamaps.com/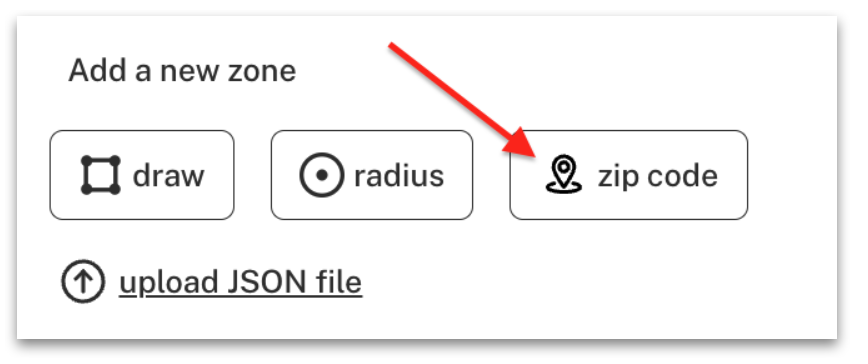 Select the zip code option
Once the overlay appears, add the zip codes

Note: Separate zip codes with a comma or new-line

Click save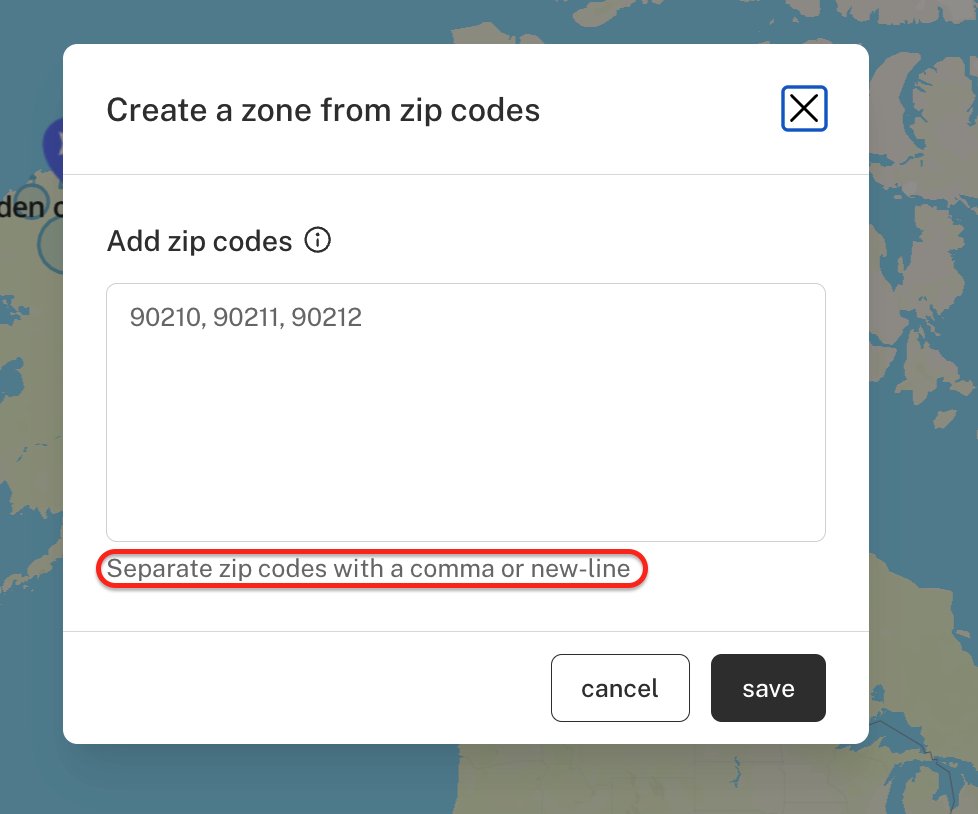 For any issues or concerns, we kindly request that you contact our support team at help@leafly.com. They will be more than happy to assist you in resolving any problems you may encounter.