Leafly's deals manager now allows retailers to put strike-through pricing on menu items that appear on their Leafly delivery or pickup menus. These deals appear throughout Leafly.com, and are a great way to capture our audience and turn them into customers for your business.
Dispensaries can now offer 'buy one get one' discounts on their Leafly menu! BOGO discounts are highlighted across the site and readily visible in order enabled menus to help customers discover and receive the deals they love.
Retailers can create and schedule BOGOs on Leafly in the same way they manage other %-off and $-off deals. Retailers can easily define BOGOs and control the specific discount to offer, i.e. Buy 1 get 1 free, B2G1 50% off, Buy 3 get 1 $10 off, etc.
To learn more, please access our new BOGO Overview video here.
Accessing your Leafly Deals
Deals can be found by navigating to the left side panel within your Leafly Biz Dashboard and clicking on 'Menu'. From there, select 'Leafly Deals'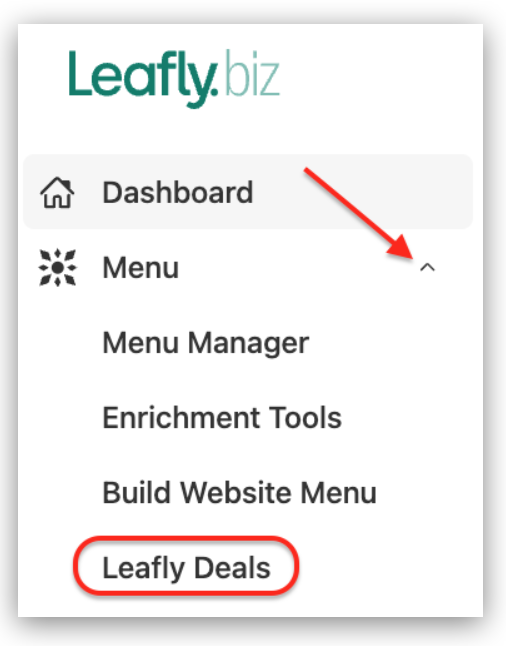 Creating a BOGO Leafly Deal
To create a new deal, click on the 'add new deal' button found on the Deals homepage. Below you can find the steps and process for adding a new deal:
Adding Details
Give your BOGO deal an informative title so customers can easily understand what you are offering. Consider including relevant categories or brands of products included in the offer, the discount that applies, and if a daily deal, the specific day of the week.

Some informative examples of deal Titles:
BOGO on all concentrates
B2G1 50% on carts
B1G1 $10 off gummies this Tuesday
Defining your BOGO
BOGOs can be the typically Buy 1 Get 1 Free, but can also be defined to offer variations of the offer by specifying:
The 'buy' quantity required to qualify for the discount

The 'get' quantity, which is the number of items to which the discount is applied (this is typically a quantity of 1), and

The discount itself, which is the % off, or fixed $ off, or 'free.'
Some example variations are:
Buy 1 get 1 free!

Buy 2 get 1 50% off

Buy 3 get 1 $10 off

Buy 5 get 2 free!
You may opt to 'Limit this BOGO to one per order' which will restrict customers from applying the same BOGO discount multiple times in a single purchase.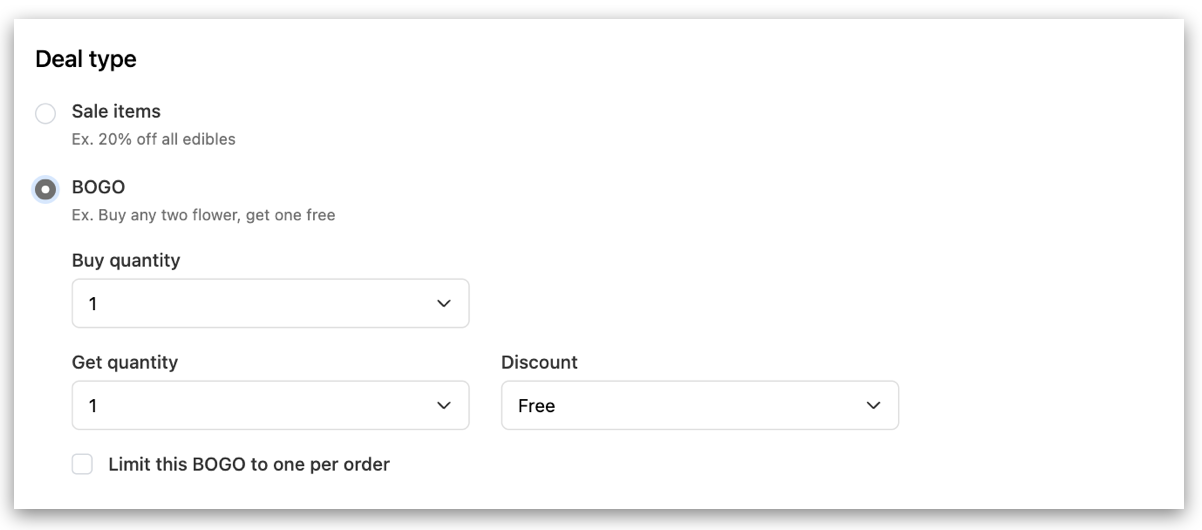 Schedule your BOGO Deal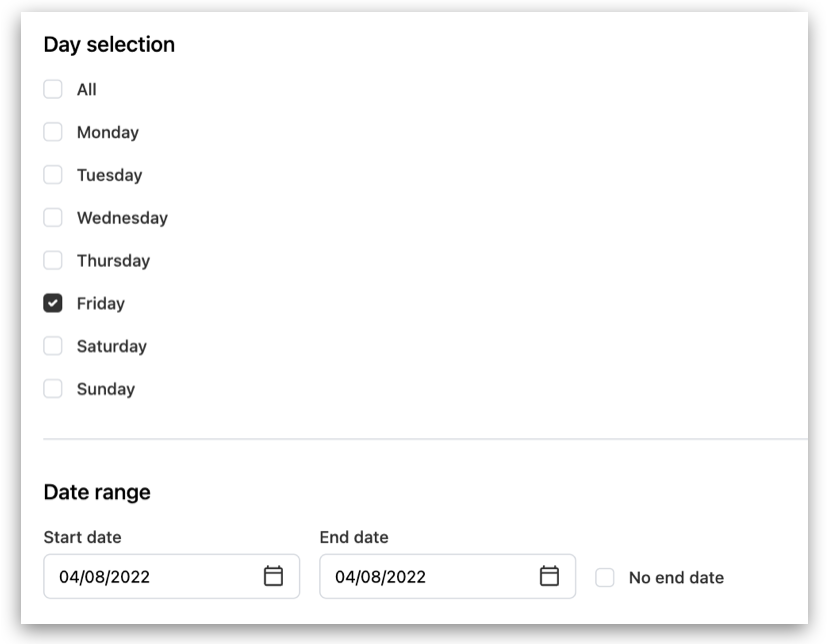 Day selection - determines the days that the deal will be available to your shoppers during the run dates.
Date Range - this will determine how long your deal will run. Alternatively, you can select a started date and select a no end date.
Adding your BOGO Deal Image
Select a stock BOGO picture or upload your own to represent your deal. This image will appear for deals on the Deals page on apps and .com. You can choose from our library of images or upload your own 1920x1080 or larger image.

Adding Eligible Products
After completing the deal details, you will be required to add the products to the deal. In order for products to show on this page, they need to be active items found on your Leafly Menu.

Products can be added to multiple deals, and Leafly will always present the best discount to the customer on Leafly.com.
To add items, you can use the search to locate your products or you can use the filters:
After finding the items you would like to add, use the checkbox to select the items.

Once you have added all the products you would like to your deal, click on the green 'continue' button to proceed to the next step.
Reviewing & Publishing your Leafly Deal
On this page, you will be able to review your deal. Here you can see the details and products. In addition, you can preview the discount price next to the products. To finalize the deal, click the green 'publish' button.

Once you publish your deal, visit your menu on Leafly.com to check that your BOGO, and the menu items included, are represented as intended. BOGO deals are prominently highlighted on your menu in carousels, in the 'Deals' tab, in product results, and on product detail pages.

Also, confirm that your POS system has the corresponding BOGO discounts set up consistently with your Leafly deals so that when customers pay for their orders, discounts match and they have a smooth pickup and delivery experience.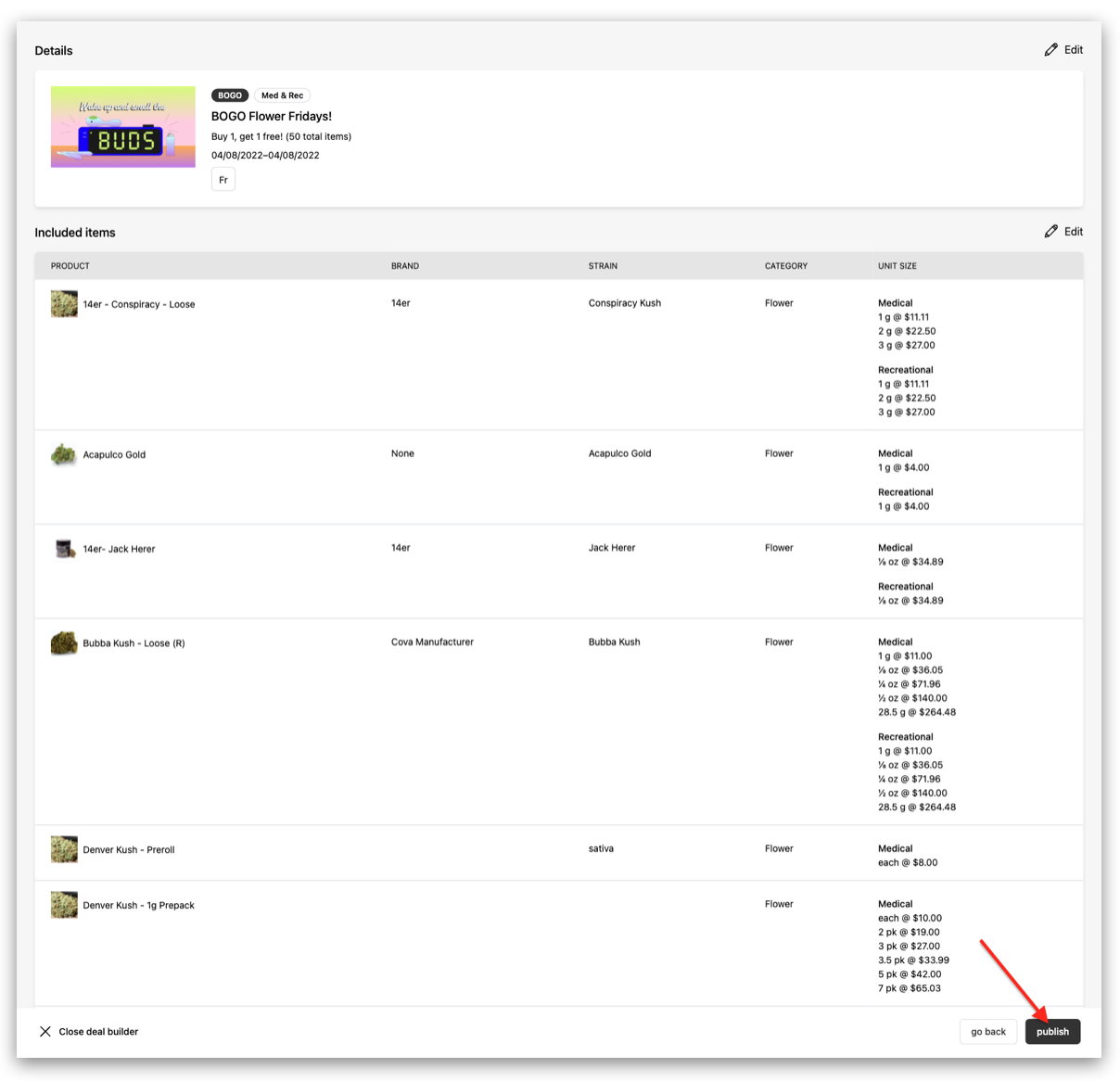 For additional assistance or questions, please use our Request Form to contact our Support Team.