Marquee Ads are the most prominent ad placements on Leafly. These ads offer retailers the exclusive opportunity to occupy the most visible spaces within the marketplace and reach shoppers first, driving more impressions, awareness, and dispensary visits. These ads can geo-target shoppers at the local level, and provide retailers with exclusivity on Leafly's most-trafficked pages.
Marquee ads are templatized placements with customizable elements. Each template features your business name and a 'shop menu' button by default. Locations who have this placement will be able to customize the background color, add a custom header copy, and an image or logo all within your Biz Dashboard.
This article covers the following:
Marquee Ad Placement on Leafly
You can purchase a Marquee ad to display at the top of the Leafly Homepage, the Strains List page, or both for maximum visibility. Your ad will always appear first in a carousel with two native Leafly ads.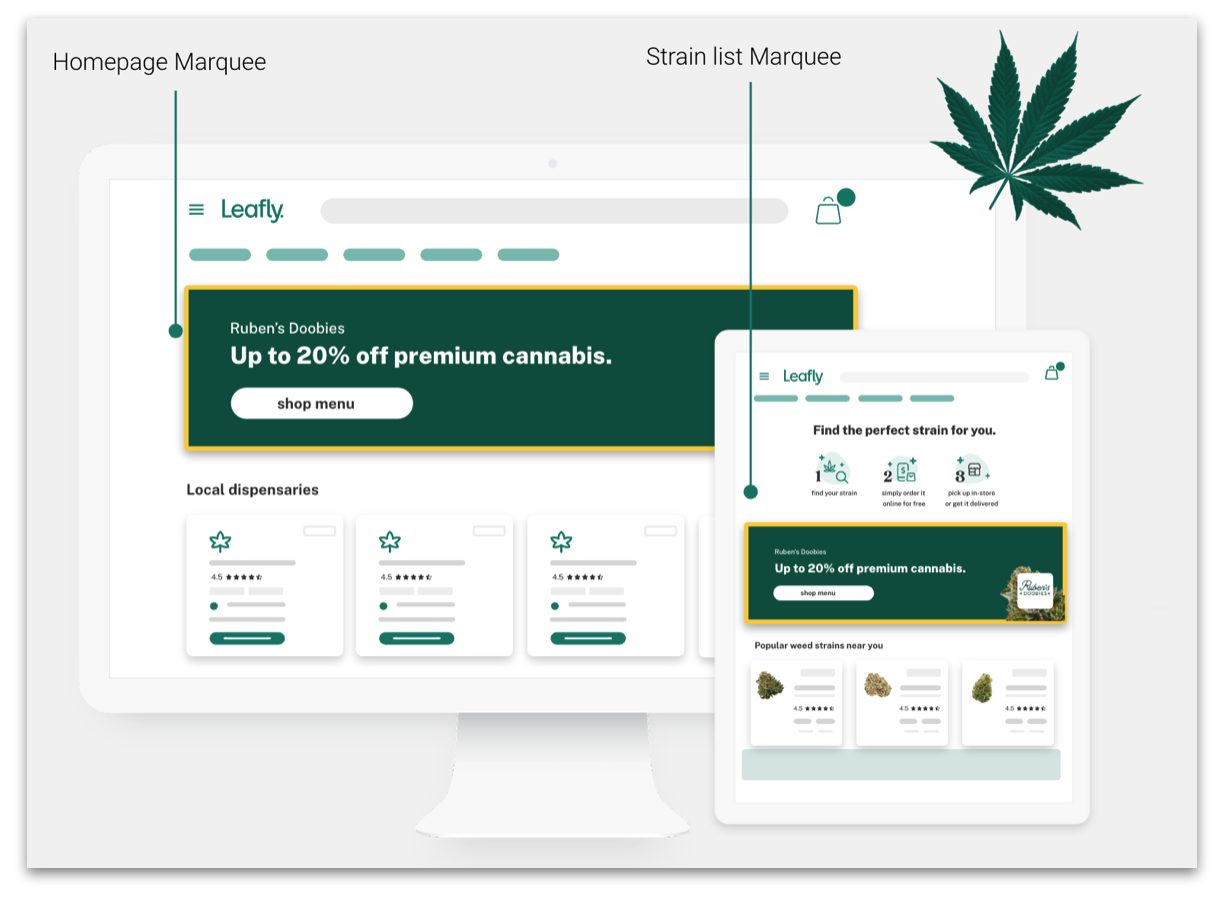 Ad Guidelines
Please look at our Ad Guidelines here: Guidelines for creating Marquee ads.
We want your ads to look flawless across multiple device sizes and adhere to industry standards. Marquee ads include a range of elements you can customize. Follow our guidelines and to pass our moderation process with flying colors!
After uploading your ad, our Accounts Team will be notified, who will then moderate and approve your ad.
Helpful tips on ad design
Purpose is paramount
Make sure your ad conveys a clear message and purpose. Customers need to know what they're clicking and why.
No anonymous ads
You can't generate buzz if customers don't know who you are. With each ad you create, make sure to include your brand or store name.
Less is more
Master the art of brevity to create successful ads. Being short and to-the-point will guide more customers to your business.
Accessing your Ads in Leafly Biz
To access your Ads, first log into your Leafly Biz Dashboard and follow these steps:
From the left-side panel, select the drop-down arrow next to Advertising
Click on Marquee Ads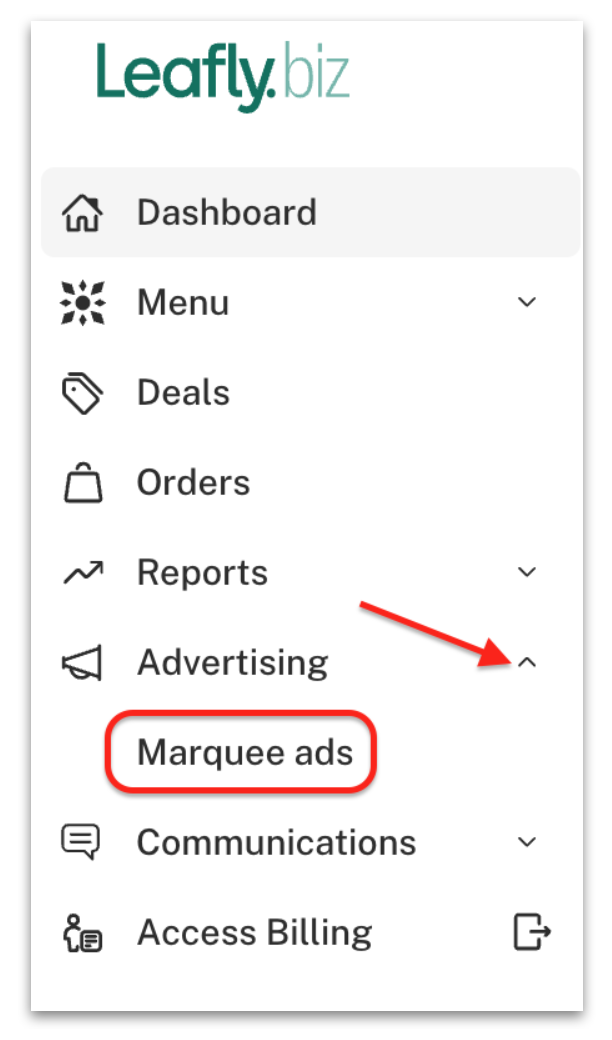 How to upload your Ads
To learn how to upload Ads in your Biz Dashboard, please check out this video: Leafly - Marquee Ads
What to expect after you upload your ad?
After uploading your ad, our Accounts Team will be notified, who will then moderate and approve your ad. Once the submitted ad is approved, you will receive an email.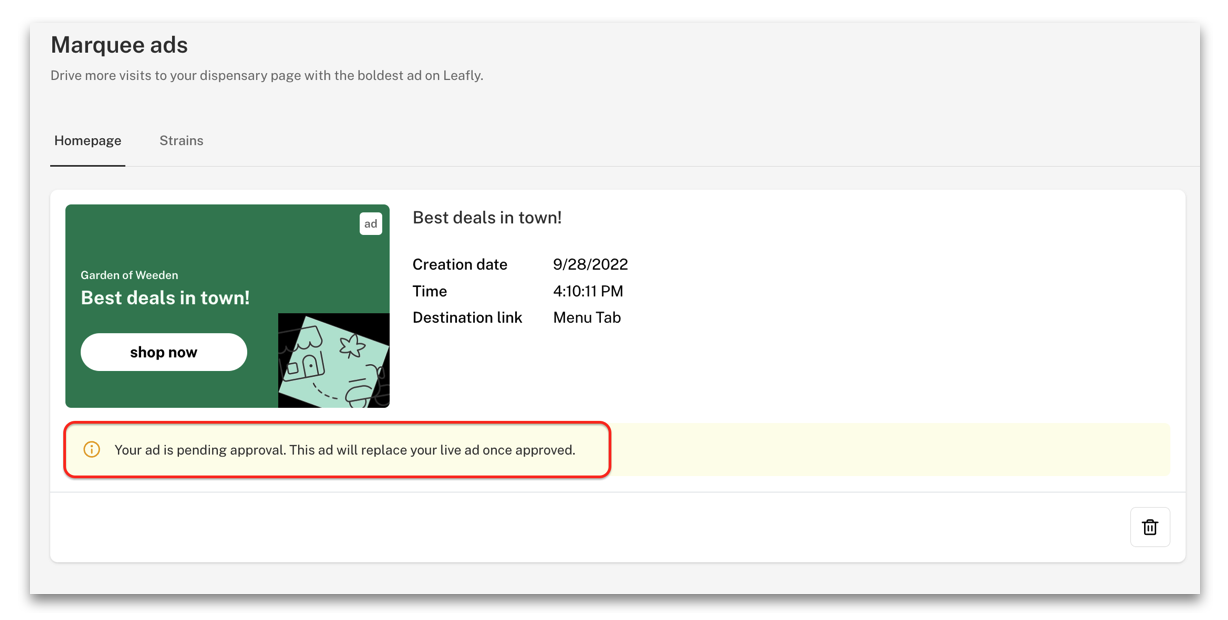 For any questions or concerns, please contact the Support Team at help@leafly.com