Mobile assets are ads for purchase that display on tablets or mobile devices. Currently, there are 2 options for the mobile assets - the Mobile Banner and Mobile Feature. These assets are an add-on to your current Leafly Subscription.
This article discusses the following topics:
What are the types of Mobile Assets?
The Mobile Feature is a card within a carousel near the top of the homepage of the Leafly app. A share of voice for a maximum of ten retailers is offered per sales zone. Tile positions are ordered randomly upon page load, ensuring equal exposure for every retailer. Information that we know shoppers care about is automatically pulled into the tile from your profile, like your cover photo, location, reviews, and your most recent deal.
The Mobile Banner is a smaller customizable ad placement on the map view within the dispensary finder in-app. This is a chance to grab the attention of more localized customers who are scanning for shops in a specific geographic region.
Helpful Tips for Your Mobile Banner
Uploading Mobile Banner to your Location
To upload your mobile assets, log into your Leafly Biz Dashboard.
From the left side panel, select 'Advertising'
Click on 'Mobile Banner ads'
On this page, you can upload your assets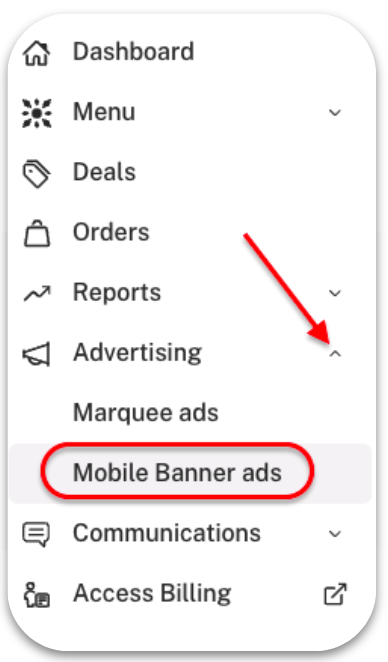 FAQ
What if I have been providing these directly to my rep or the Support Team in the past?
We ask that going forward, you upload your own assets from your Leafly Biz Dashboard. If you have any issues, please reach out to the Support Team at help@leafly.com. Please provide your store details, as well as attach your asset files for further troubleshooting.
I want mobile assets for my account on Leafly. How do I get this for my account?
Currently, mobile assets are an add-on to your current Leafly Subscription. If you are interested in adding this, you can submit a request to boost your subscription right from the Advertising section of your Leafly Biz Dashboard.
To do so, click on the 'get a boost' button and fill out the form. From there, your account representative will be in contact with you.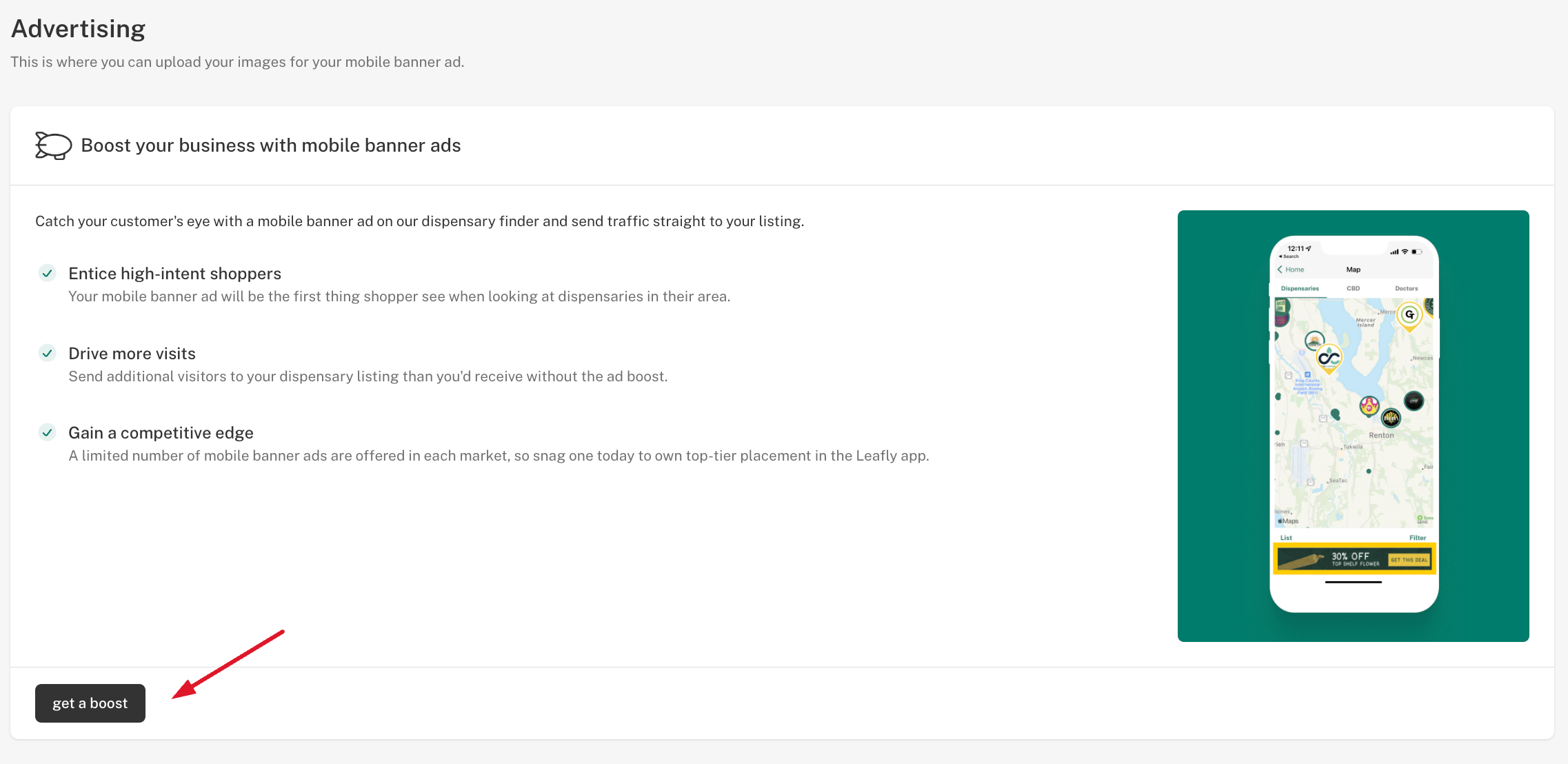 For any issues or concerns, we kindly request that you contact our support team at help@leafly.com. They will be more than happy to assist you in resolving any problems you may encounter.