Deals boost traffic and orders to your listing without any added cost to your subscription. Available only to order-enabled retailers, deals appear to people near you throughout Leafly.com. Deals are sorted by distance, so a customer sees deals at stores closest to them first. We also prioritize deals with the highest $ or % value off. The more enticing your deal, the more exposure you'll receive.
Some best practices below:
Focus your deals around specific strains, or on consumption methods.
$ off deals often have high perceived value
Optimize your deal by having a cool image or having an enticing title!
To learn more about adding BOGO Deals, please check out this Help Desk article: Creating BOGO deals on Leafly
This article covers the following:
Accessing your Leafly Deals
Deals can be found by navigating to the left side panel within your Leafly Biz Dashboard and clicking on 'Deals'.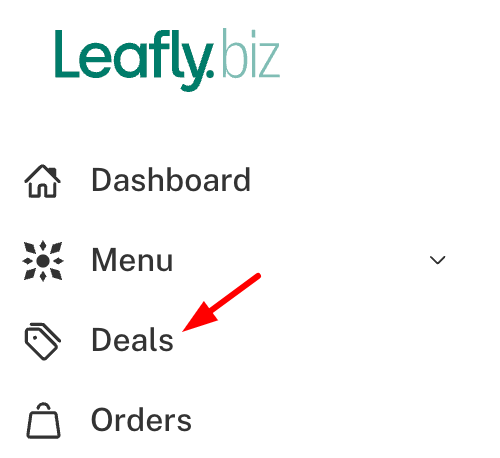 After landing on this page, you can create a new deal - or you can toggle between your Active, Scheduled, and Expired Deals: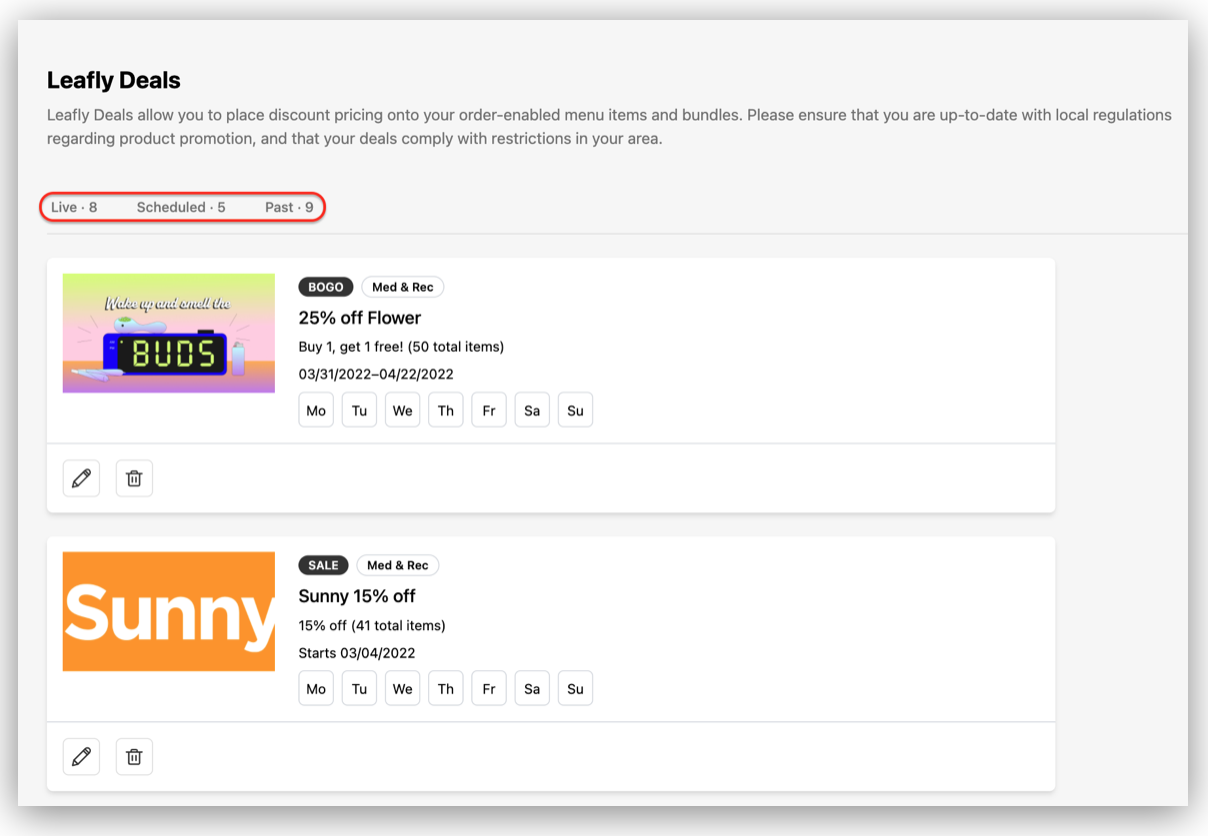 Creating a Leafly Deal
To create a new deal, click on the 'create new deal' button found on the Deals homepage.

Below you can find the steps and process for adding a new deal:
Adding Details
The first step is to add the deal details. To proceed, you will need to fill out the following required fields:
Title - this would be the title of your deal
Menu Type

(only applicable for dual menu locations only)

- this field allows you to specify if your deal will apply to your medical, recreational or medical and recreational menus
Deal Type

Sale items: Options include a % or $ amount off. Discount dollar amounts are rounded to the nearest dollar, and discount percentages are only between 5% and 95%

Fixed Deals: Retailers can now set discounts on "sale item" deals by choosing a fixed price, vs. defining the amount or percentage off. (i.e. Tuesday: All Gummies for $12)

BOGO option: Select your buy quantity selection, then select your get quantity and discount. You can also limit the BOGO to one per order. For more information: Creating BOGO deals on Leafly

Bogo Fixed Deal: Retailers will now be able to set discounts on "bogo" deals by choosing a fixed price, vs. defining the amount or percentage off. (i.e. Tuesday: Buy 2 Pre-rolls, Get a 3rd for $5)

Day selection - determines the days that the deal will be available to your shoppers during the run dates.
Date Range - this will determine how long your deal will run. Alternatively, you can select a start date and a no end date.
Deal image - this image will appear for deals on the Deals page on apps and .com. You can choose from our library of images or upload your own 1920x1080 or larger image.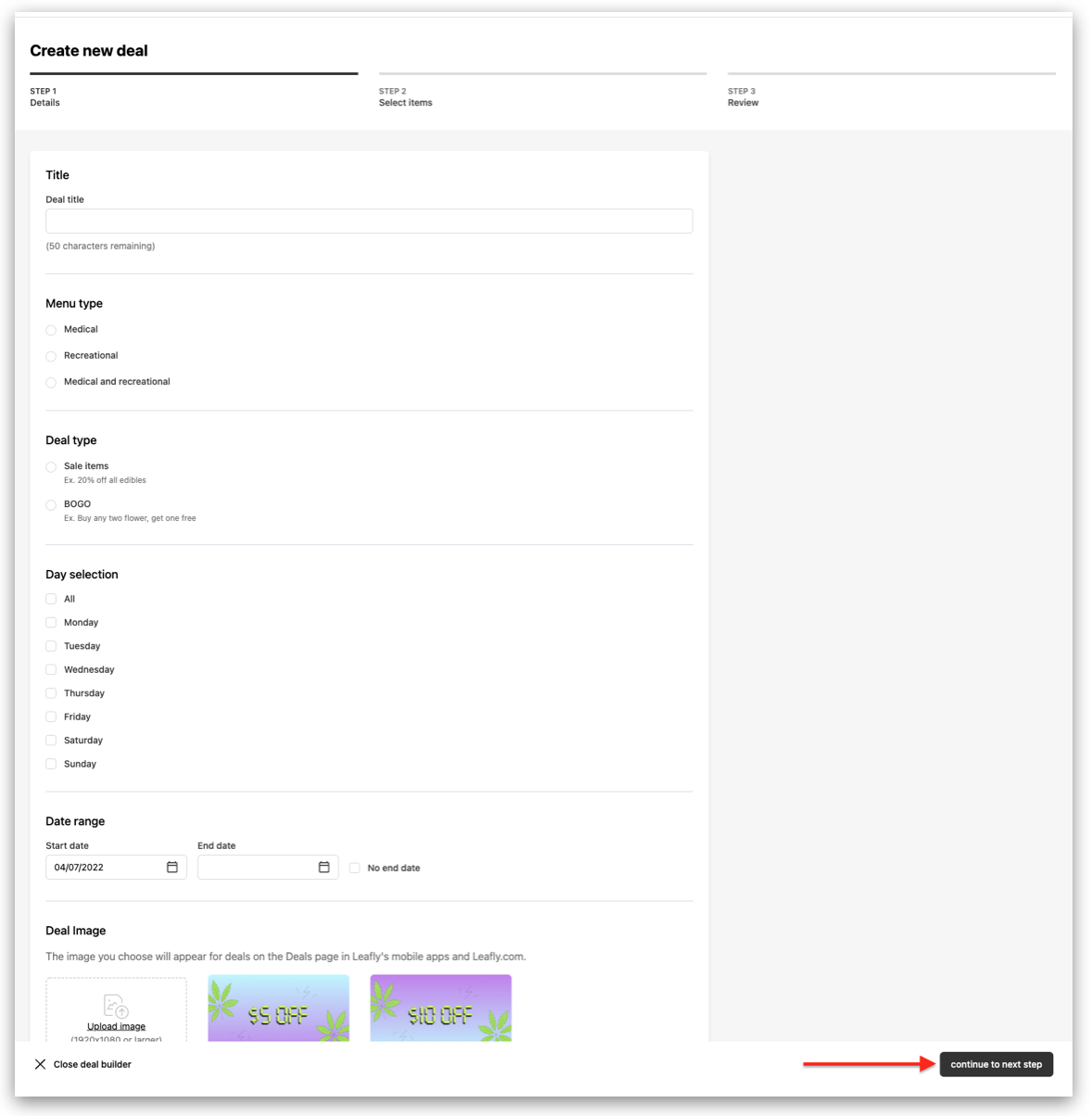 Once filling out the details, select 'continue to next step'
Adding Eligible Products
After completing the deal details, you will be required to add the products to the deal. For products to show on this page, they need to be active items found on your Leafly Menu.

Products can be added to multiple deals, and Leafly will always present the best discount to the customer on Leafly.com.
To add items, you can use the search to locate your products or you can use the filters: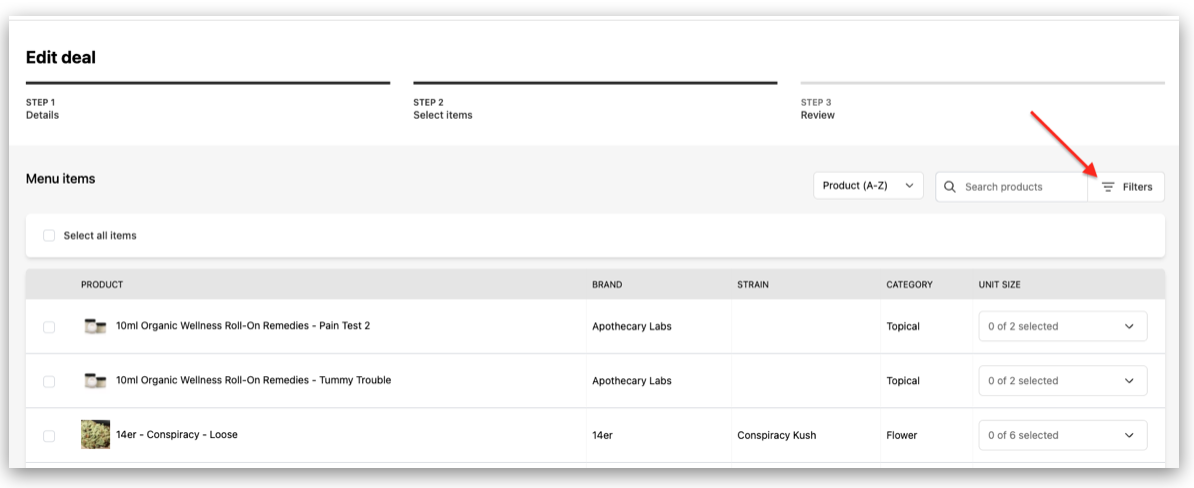 After finding the items you would like to add, use the checkbox to select the items.

Once you have added all the products you would like to your deal, click on the green 'continue to next step

' button to proceed to the next step.
Reviewing your Leafly Deal
On this page, you will be able to review your deal. Here you can see the details and products. In addition, you can preview the discount price next to the products. To finalize the deal, click the 'publish' button.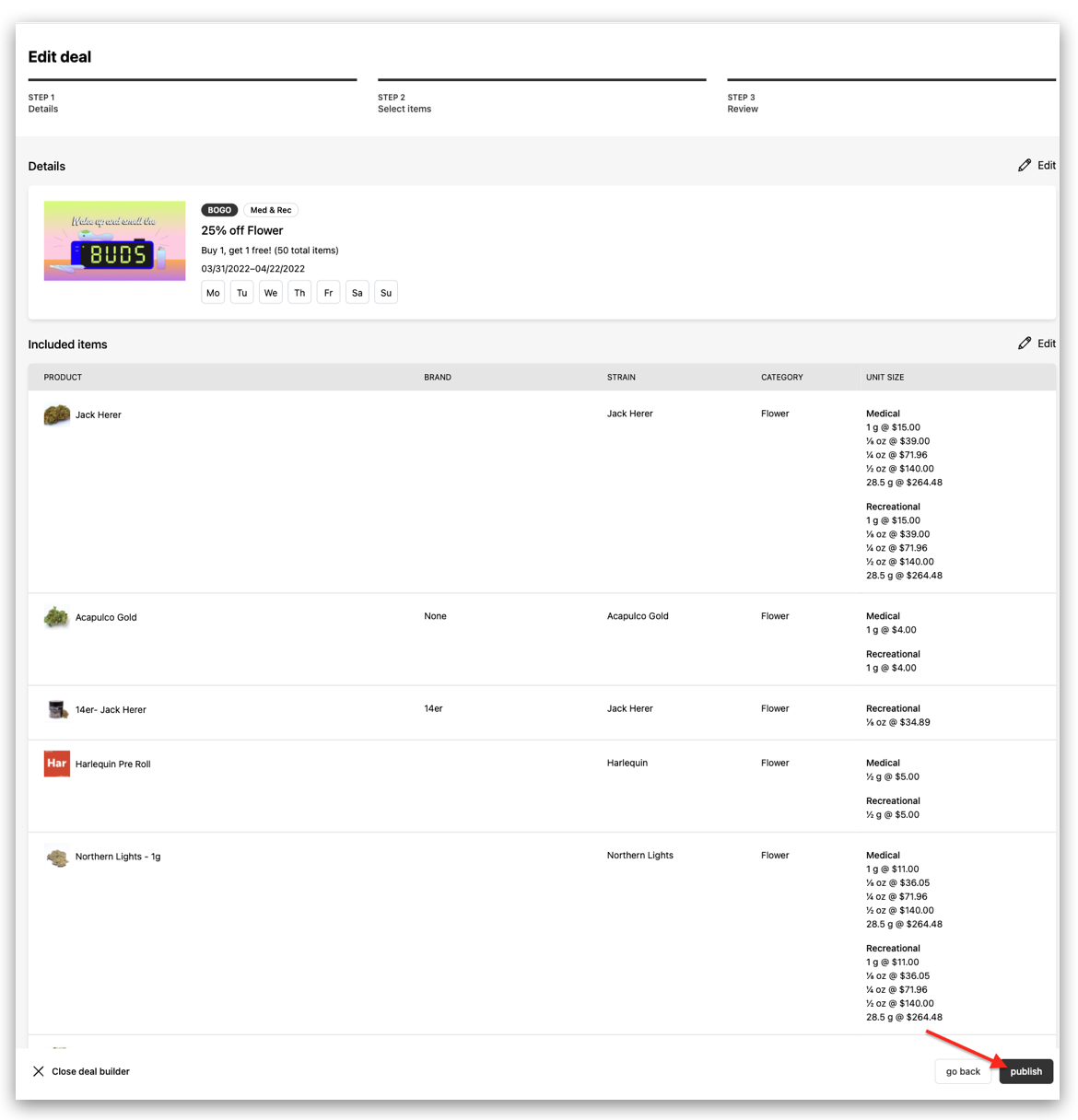 For additional assistance or questions, please use our Request Form to contact our Support Team.