Integration Process Overview
This article will walk you through the necessary steps to successfully activate your Menu integration with MJFreeway. You will complete the following high-level steps (in order) →
MJFreeway Setup
1. Request your API Credentials
To obtain the credentials for the MJFreeway integration, please send an email to the MJFreeway team at partners@mjfreeway.com and copy help@leafly.com on the email request for Leafly team visibility.
You will be requesting the following identifiers:
API Key
Facility ID
Org ID
User ID
MJ Freeway will share the requested credentials with Leafly directly.
Note: If you have multiple locations, please list each one separately.
2. Legacy Menu Deactivation
If you are using Leafly's legacy (older) menu integration with MJ, you will need to log into your MJ Freeway system to deactivate the previous version →
Click onto Facility Settings
Select Manage Third-Party Integrations
On the Active tab, find "Leafly" in the list and click Edit

From the "Active" drop-down menu →

Once saved, you will be brought back to the Third Party integrations page where you will see the old Leafly integration has been moved to the Inactive tab.
Leafly Setup
1. Integration Setup
Once the MjFreeway credentials are shared with Leafly, Leafly Support will input your credentials into Leafly Biz.
At all times, you can preview your connection status from your Integrations Page, along with the number of items and last sync period: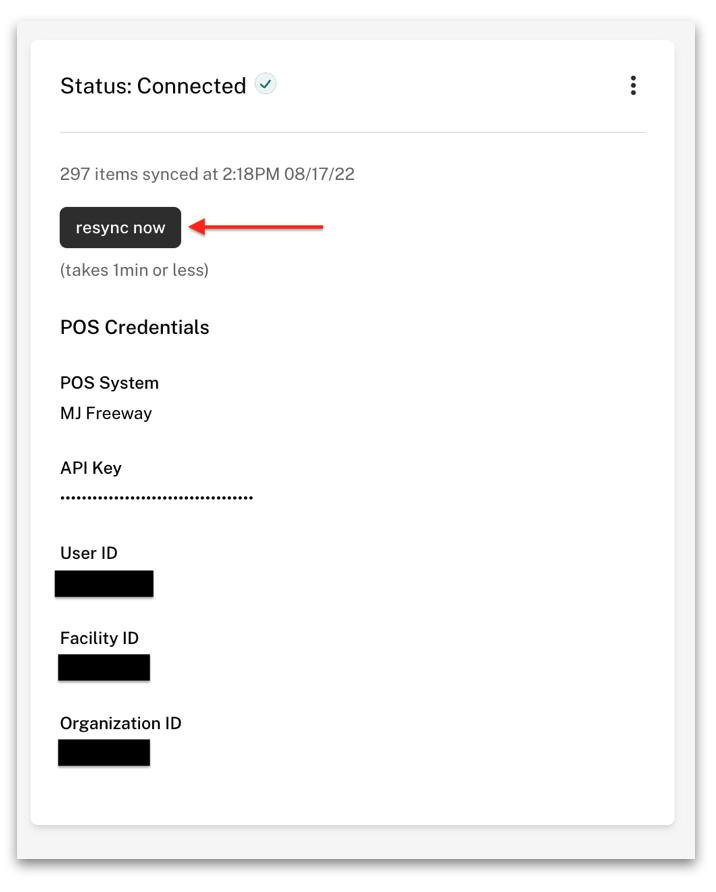 Integration Configuration and Settings
Once you have successfully synced your MJFreeway menu with Leafly, you can configure the integration and override menu data in Leafly Biz.
These changes will persist in your Leafly menu unless you disconnect and reconnect your POS and resync your POS menu data.
Locate your Menu Manager Settings by checking out this Help Desk article: Where do I locate my menu manager settings and options?
With MJFreeway, you have the following configuration settings in Leafly:
Default Item

S

tatus
Automatically set new and restocked items to either active or inactive by default. Items automatically set to an inactive status must be manually set to active before being visible on online menus.
Items set to "Active": these items will show up on all online menus and be set to "Available for Pick-Up/Delivery" if your store participates in any of Leafly's order ahead programs.
Items set to "Inactive": these items will be hidden from all online menus. They will no longer be "Available for Pick-Up/Delivery" if your store participates in any of Leafly's order ahead programs.

Category Mapping
Related article: Mapping your categories on Leafly
We currently support the following categories → Accessory, Seeds, Clone, Flower, Edible, PreRoll, Concentrate, Cartridge, Topical, and Other.
If your POS assigned category does not align with a predefined Leafly category, it will be assigned a category of Other by default. You can remap your POS Category to the Leafly category.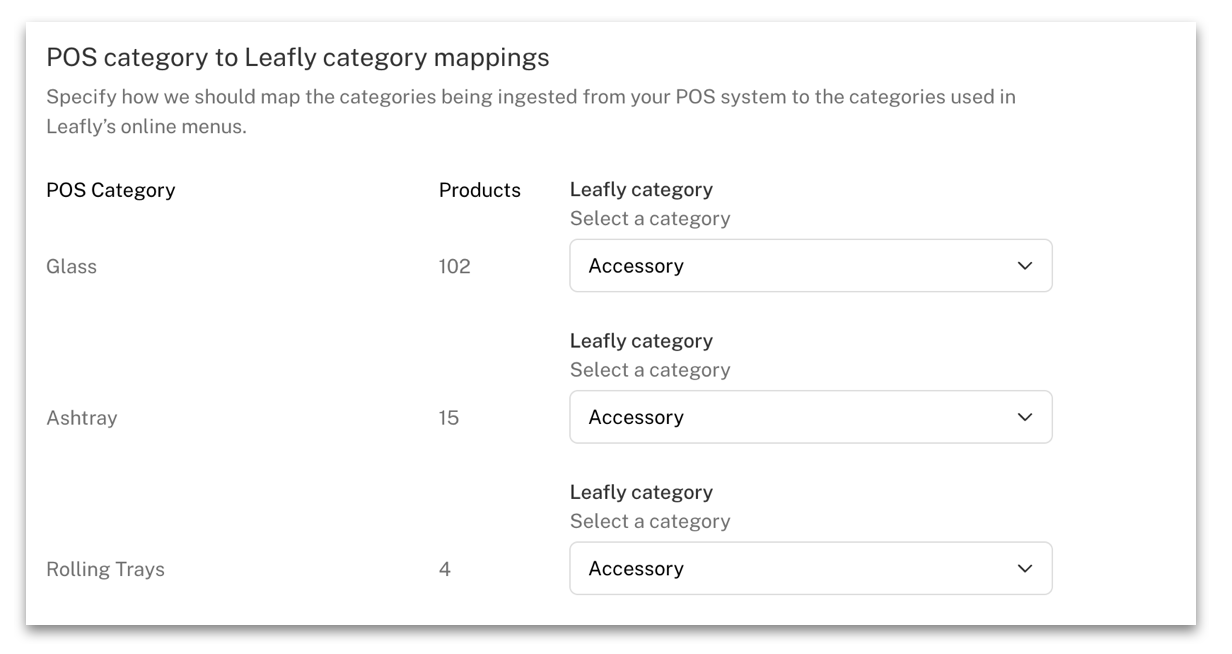 Inventory Availability Rules
Related article: Setting inventory thresholds
You can set inventory thresholds at both the Global and Category levels. If a threshold is defined, items with inventory counts under the thresholds set will be automatically hidden from your online menus. By default, the threshold is set to 1.
Note: If your POS has the ability for thresholds, those settings will override Leafly.
Inventory Exclusion Rules



Related article: How do I exclude items from syncing over to my Leafly menu from my point of sale?
You can permanently exclude inventory from appearing on your online menus by product keyword or category.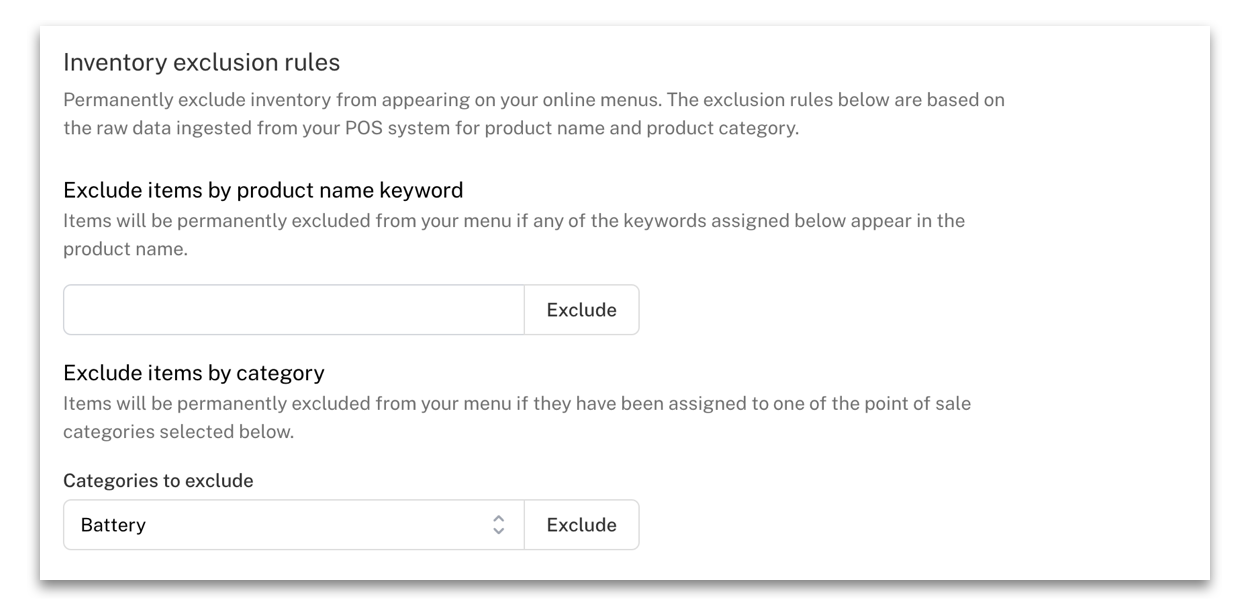 Room Exclusion
Related article: Including/excluding inventory rooms on Leafly
You can exclude inventory that resides within a POS "ROOM" that you do not wish to be shown on your online menu.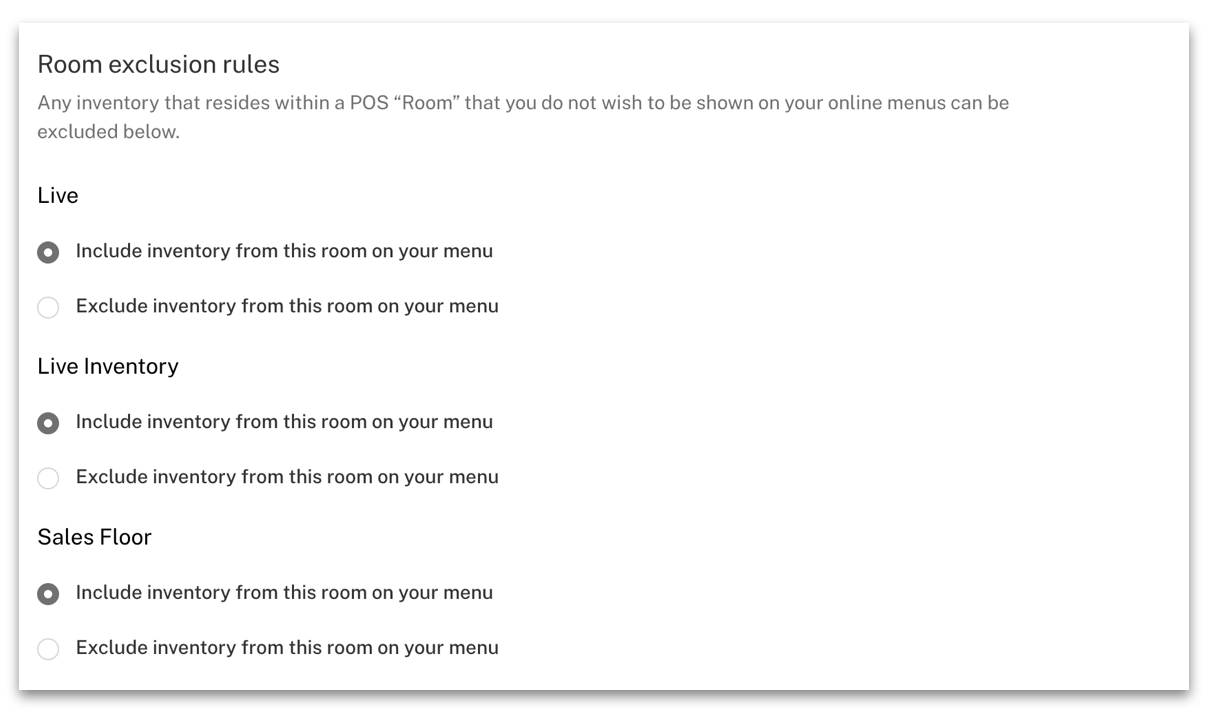 Cannabinoid Calculation
Related article: Customizing your cannabinoid values on your Leafly menu
You can select which calculation method is applied by default to the THC and CBD values coming from your POS menu on the POS Settings page. More information on the available calculation methods can be found here.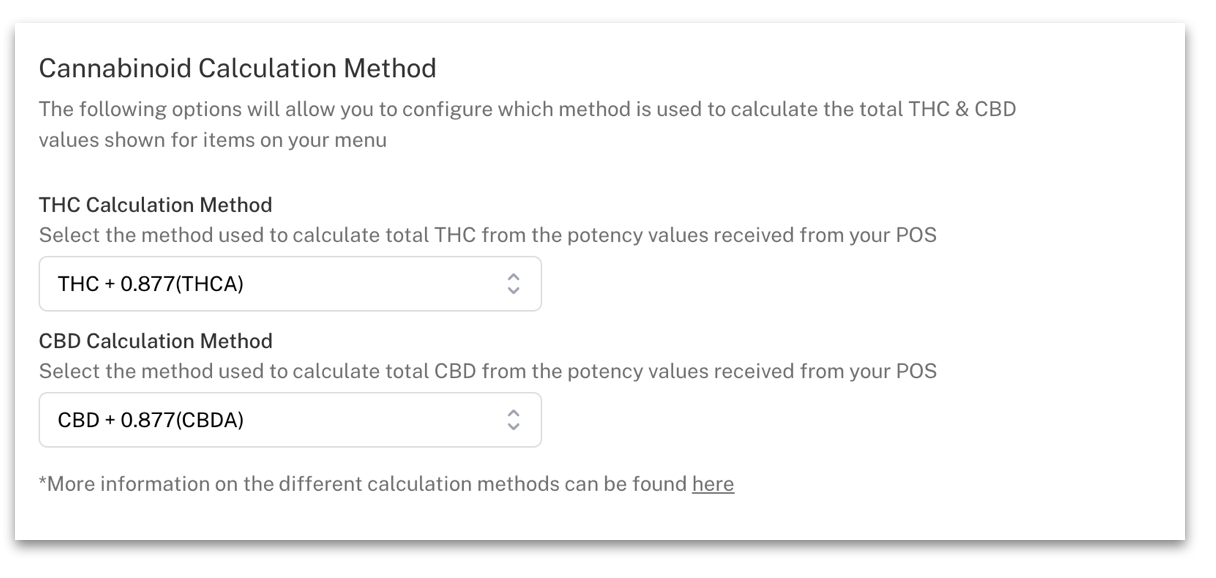 Disconnecting your POS
To learn how to disconnect your point of sale, we advise following the instructions in this article: How do I disconnect my point of sale?
MJFreeway FAQs
Can all MJ clients integrate with this sync?
All clients outside of Pennsylvania are able to sync their menus. This is due to a restriction, where data cannot leave the MJ / Leaf Data platforms.
What is the SLA for receiving the MJ Freeway credentials after sending the request?
Once requested, MJ Freeway will send the API keys to Leafly within 2 business days.

Leafly will activate the integration within 1 business day upon receipt of the API keys.
How often does MJFreeway sync with Leafly?
Leafly pulls updates from Flowhub every 6-10 minutes. However, any changes can take up to 15 minutes to reflect on your menu.

You can force a sync within your Leafly Integrations Settings page and clicking the resync now button.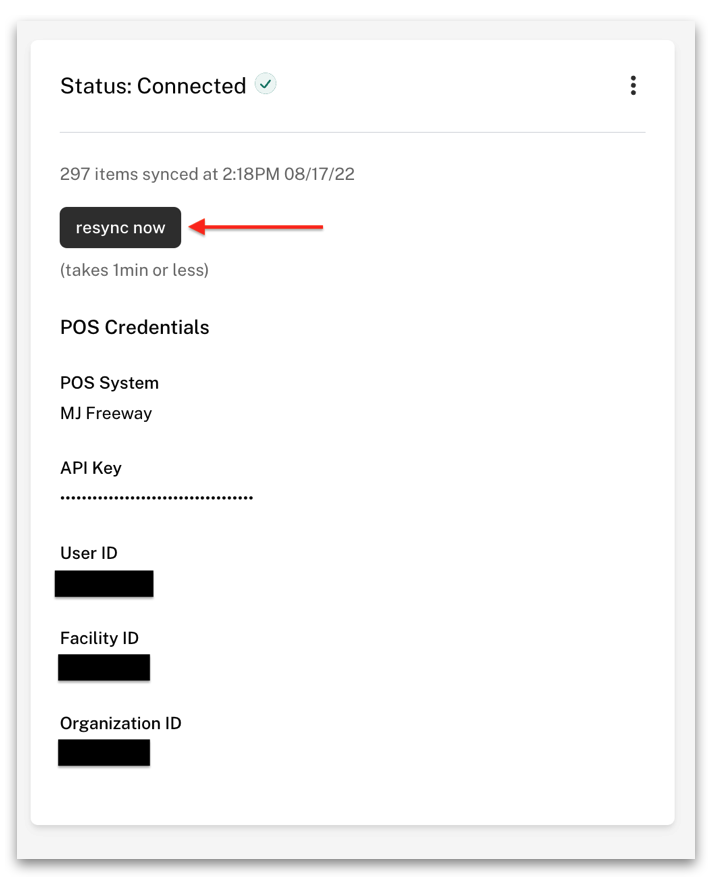 If I have an existing menu in Leafly, do I need to save it prior to syncing my POS menu?
No. Leafly will automatically save a copy of the menu that you maintained before connecting your POS system. If you encounter any issues with the data that is pulled in from your POS, you can quickly revert back by selecting "Disconnect and restore pre-POS connected menu data" when disconnecting the POS and reverting the menu back to its original state.

To learn how to disconnect your point of sale, we advise following the instructions in this article: How do I disconnect my point of sale?
How should I enter THC + CBD data?
Currently, the only area to include potency information for a product in MJ is on the Product Create/Modify page, and it must be manually entered. Actual lab results for a specific inventory package is determined by the State and is a different workflow and setting.

To have Potency Information such as THC and CBD display in Leafly, users will need to manually enter that information into the Product Create/Modify Page.
Can I manually update fields on Leafly Biz that are missing?
Do products on the menu have sales tax associated?
Currently, sales tax is not displayed in the Leafly menu.
Clients can use our tax feature in the Menu Manager Settings Biz to set sales and excise taxes in checkout. To learn more about setting these options, please check out this Help Desk article: Setting up Tax Estimates for your Leafly Menu
What fields do you pull data from in MjFreeway?
You can preview our field mapping below:
| | | |
| --- | --- | --- |
| Leafly Field | MJFreeway Field | Notes |
| Item Name | Item Name | |
| Category Type | Category | |
| Strain Name | Strain Name | |
| Brand Name | Item Brand | If included in Item Name, Leafly will separate Brand and Item name. |
| Compound Data (THC + CBD) | Potency Information → D9THC + CBD | |
| Description | Product Expansion Description | |
| Image | Product Image (Primary) | JPEG or PNG image |
| Price | Price | |
Are Dual Menus supported for the MJFreeway POS?
No, dual menus is not supported at this time with this integration.
Integration Guide Disclaimer
For further assistance or questions, please reach out to MjFreeway Support (support@mjfreeway.com) or call them at 888.932.6537 ext. 1. You can use our Request Form to contact the Leafly Support Team.

Please also visit our Knowledge Base for helpful hints and tips.