Process Overview
This article will walk you through the necessary steps to successfully activate Leafly's Order integration with Leaf Logix POS. You will complete the following high level steps (in order) →
Setup Leaf Logix + Leafly Menu integration sync, if not already done

Enable Leaf Logix Order integration in Leafly Biz

Configure Order notifications in Leafly Biz
FAQs (please review prior to enabling Ordering)
Do I need to enable my POS menu sync from Cova before I can enable the Order integration?
Yes, at this time it is necessary for you to have the Menu integration enabled and actively syncing prior to enabling the Order integration.You can find instructions to enable the Menu integration sync in the

Cova Menu Integration Instructions

article in the Leafly Help Center for POS Integrations, if needed.
Do I need to be a Pickup partner + Leafly customer in order to activate the Leaf Logix Order settings?
Yes, at this time it is necessary for you to have both Leafly Pickup and a current subscription to our advertising services activated in order to use the Cova Order Integration settings.
Do customers still receive notifications when order status changes?
Yes. They receive automated SMS notifications when order status is changed within POS.
Once Order Integration is enabled, will the Leafly Order Dashboard be disabled?
Yes. Once the Order Integration is enabled the Leafly Order Dashboard will be read-only. The dashboard will update appropriately, but will not be actionable.
Does Leaf Logix support a "hold queue"?
No. Menu items are removed from inventory when the order transaction is completed.
What are the potential pitfalls to managing Pickup/Kiosk orders solely in Leaf Logix POS?
Currently, Retailers will not be able to substitute menu items for customers or be able to distinguish first-time customers until the customer is in-store.
How do I cancel an order?
At this time you need to perform all cancellations within the POS by removing all pre-order items from a customer's cart. The Leafly order dashboard will update in the case of Cancellations.
Can I provide a cancellation reason?
Currently, cancellation reasons do not carry through from Leaf Logix to the Leafly order dashboard.
How do I communicate that an order is filled back to Leafly?
Use the Notify button in Leaf Logix POS to communicate that an order is filled.
Can I turn the Order Integration off?
Yes. You can disable the Leaf Logix Order Integration at any time in Leafly Biz. You can find the instructions to disable the Order Integration under

Leafly Configuration > Disconnect the Order Integration

in this article.
Leafly Setup
Order Settings

Follow these steps to enable the Leaf Logix Order integration in Leafly.


Once in your Orders dashboard, navigate to your Order Settings in the upper right-hand corner.


Navigate to 'Order Settings' in the left-hand navigation.
Check the box to enable the Order integration with Leaf Logix and hit Save to confirm.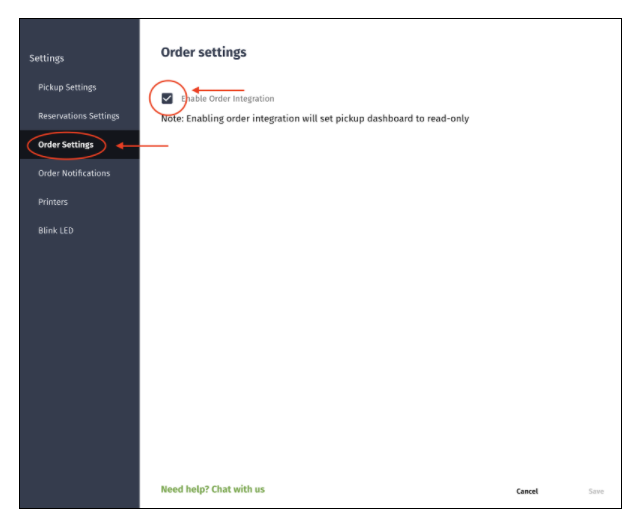 Order Notifications
Follow these steps to enable email notification alerts for Leafly Orders through the Leaf Logix Order integration: Enabling Email Notifications for Leafly Pickup
Leaf Logix Set Up and Order Flow
Set-Up
In order to accept orders from Leafly, you will need to ensure your integration is active.

Additionally, you will need to configure your POS Guestlist Statuses in the LeafLogix backend, under POS > Layout > Guestlist Status. Most menu integrations can be set up like the example below. Contact support@leaflogix.com

with any questions.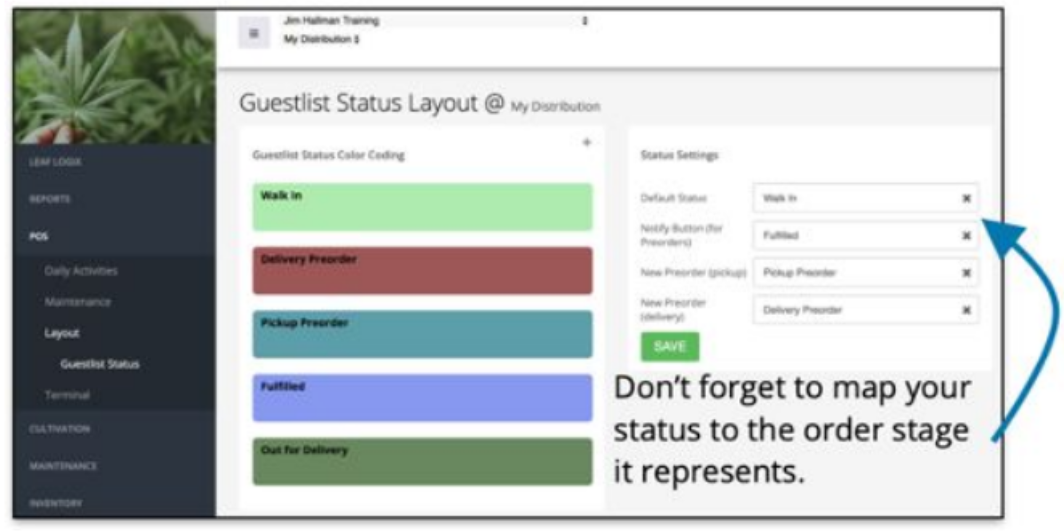 Ordering Flow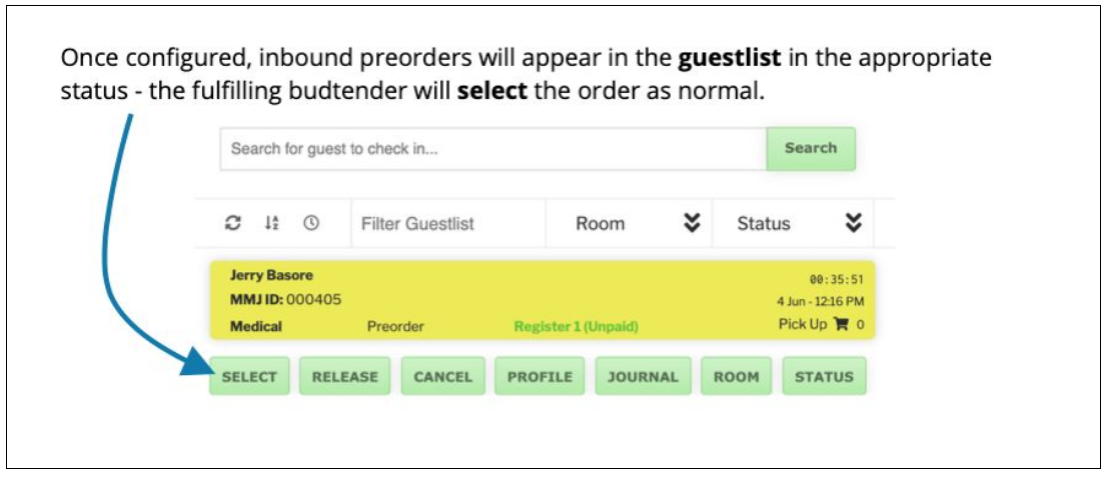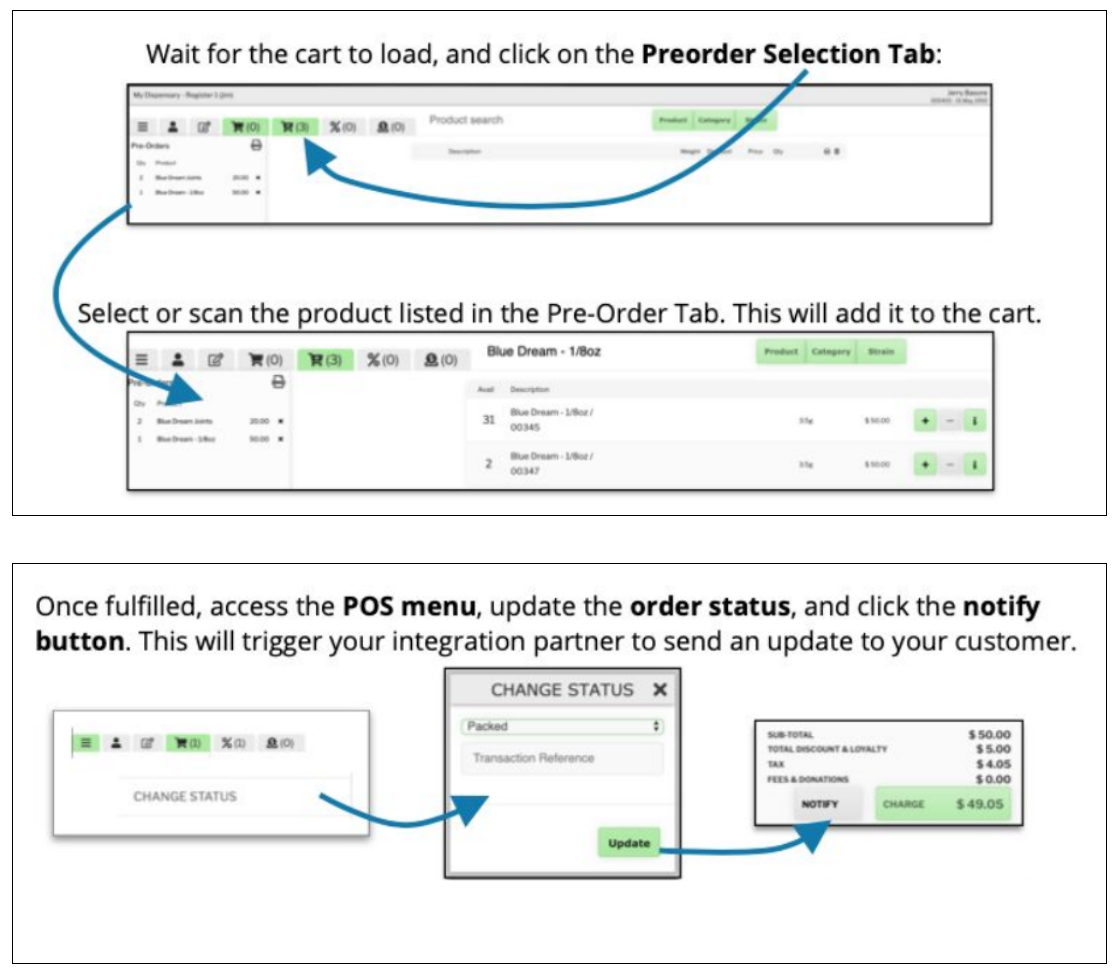 Integration Guide Disclaimer
For further assistance or questions, please reach out to Leaf Logix Support (support@leaflogix.com) or use our Request Form to contact the Leafly Support Team.
Please also visit our Knowledge Base for helpful hints and tips.