Dual Menus
Some of the benefits of a dual license listing are as follows:
Consolidated Leafly Biz Dashboard

- gone are the days of logging into multiple dashboards to manage medical and recreational inventory and order fulfillment.

POS Support

- Major point of sale systems support the automatic assignment of medical or recreational tags to inventory as it flows into Leafly, ensuring retailers remain compliant with state regulations.

Taxes - Retailers can now configure different independent tax rates for medical and recreational inventory on their dual-license store listing.

Medical and recreational taxes are automatically applied to items during checkout based on the menu that the shopper has been viewing.

Deals

can be created independently for Medical and Recreational inventory - shoppers will only be shown a deal if it applies to the menu they are currently viewing.

Cleaned up shopping experience

- with a consolidated medical and recreational store listing on Leafly.com, shoppers can more easily find the correct menu for their needs.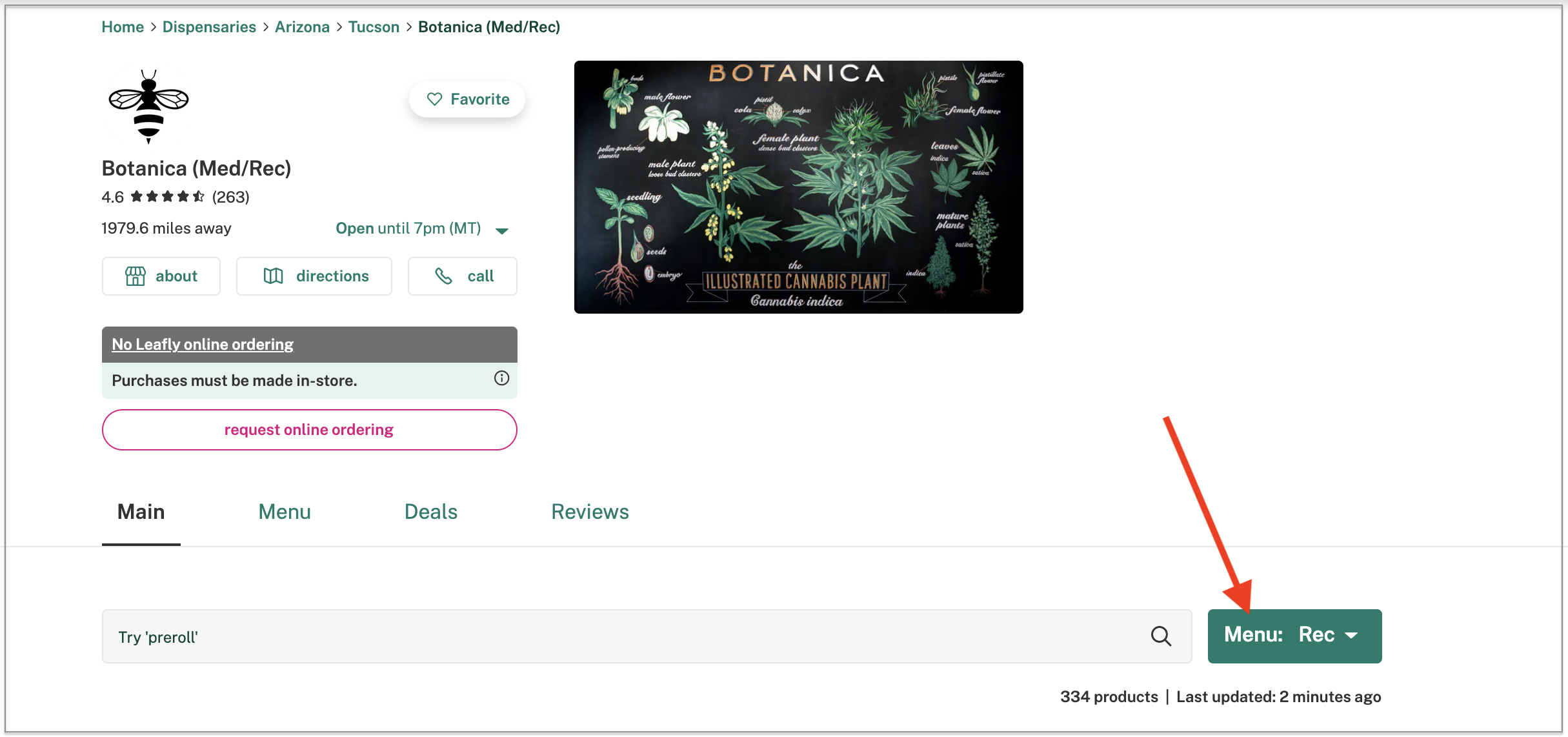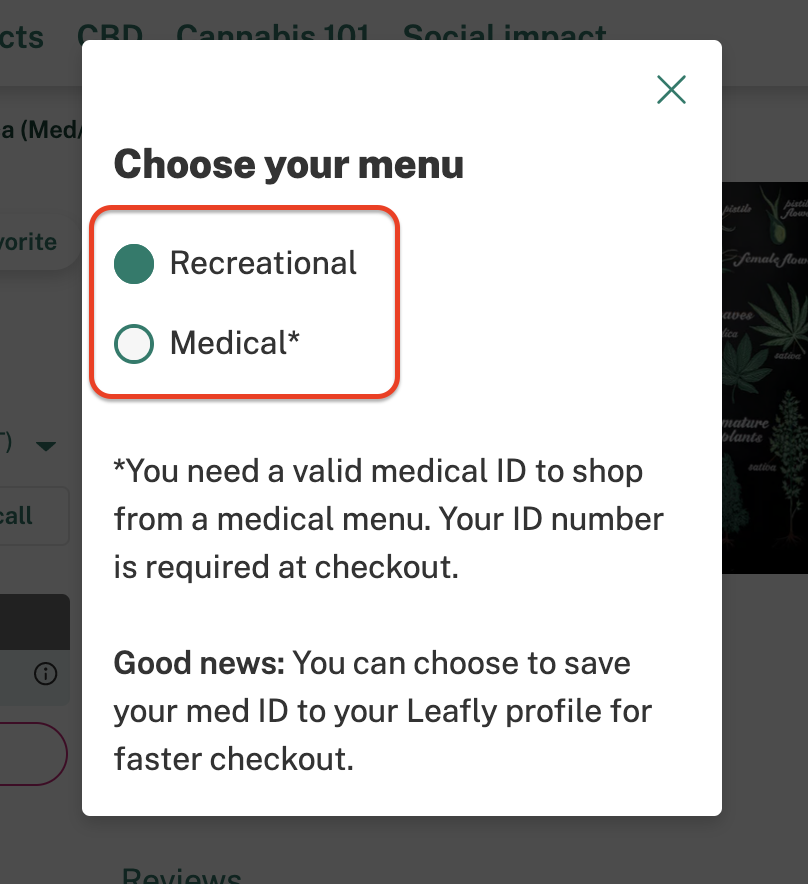 Manually Managed Retail partners will be able to:
Manually specify if a menu item should be available for purchase on their medical menu, recreational menu, or on both menus

Provide different post-tax prices if an item has been tagged as being available on both the medical and recreational menus

Review inventory in a consolidated medical only or recreational only list view so that they know exactly which items will be shown to shoppers on their Leafly.com online menu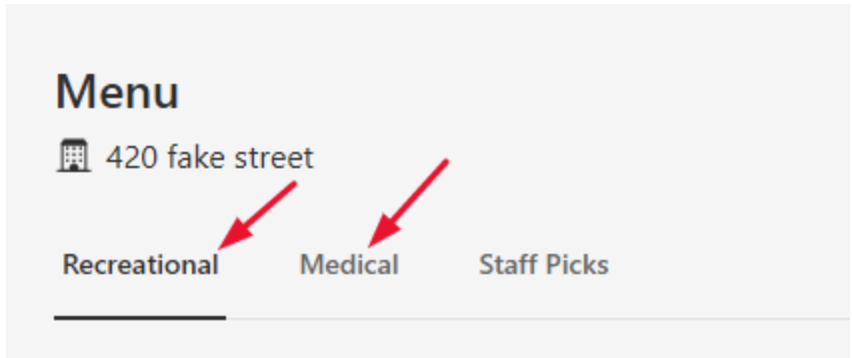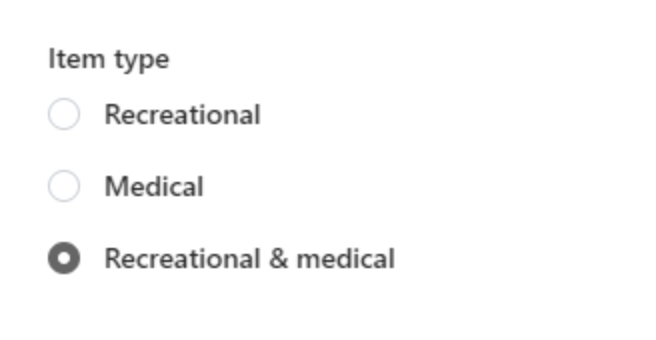 POS Connected Retail partners will be able to:
Tag rooms as having medical, recreational, or both types of inventory for POS solutions that support "Inventory Rooms"

Depending on the type of integration you have - will be able to send us both medical and recreational product variants ensuring that online menus are automatically compliant or have an automatic assignment of menu items to medical or recreational menu dependant on the data we receive from the API.
This sounds great! How do I sign up?
To sign up or request to have this new feature, please email help@leafly.com with the following information:

Location Name as it appears on Leafly

Point of Contact Name
Point of Contact Email
From there, our team will provide your request over to your current Customer Success Manager.
For information on how to prepare for this new change, please continue reading the steps in this guide.
_______________________________________________________
Preparing your location for Dual Menus:
Manually Managed Locations:
Before the location is switched to Dual Menus:
We have a team that will manually complete a manual initial build-out plus product linking for 100 products on your menu. In addition, we need to know which items should appear on your med and rec menus.
After your Customer Success Manager reaches out to you directly you will be asked for the following information to send to our team:
An excel or CSV that distinguishes medical and recreational inventory items.

You can export this directly from your POS.

Please make sure the file includes:

Product name

Brand name

Product type/category

Price

Quantity (0.5g, 1g , 3.5g, 100mg ect. but also 2-pack or 10-pack for things like pre-rolls and edibles)
After the location is switched to Dual Menus:

Once this feature is live, you will want to take the following steps to ensure your Leafly menu is accurate:
After your new med/rec listing is live, please double-check that the items showing up on your recreational menu are correct and within state guidelines. In Leafly Biz, you can now see separate med and rec menus in Biz Menu Manager. You can manually adjust whether a menu item should be made available for purchase on your medical menu, recreational menu, or on both menus (see below):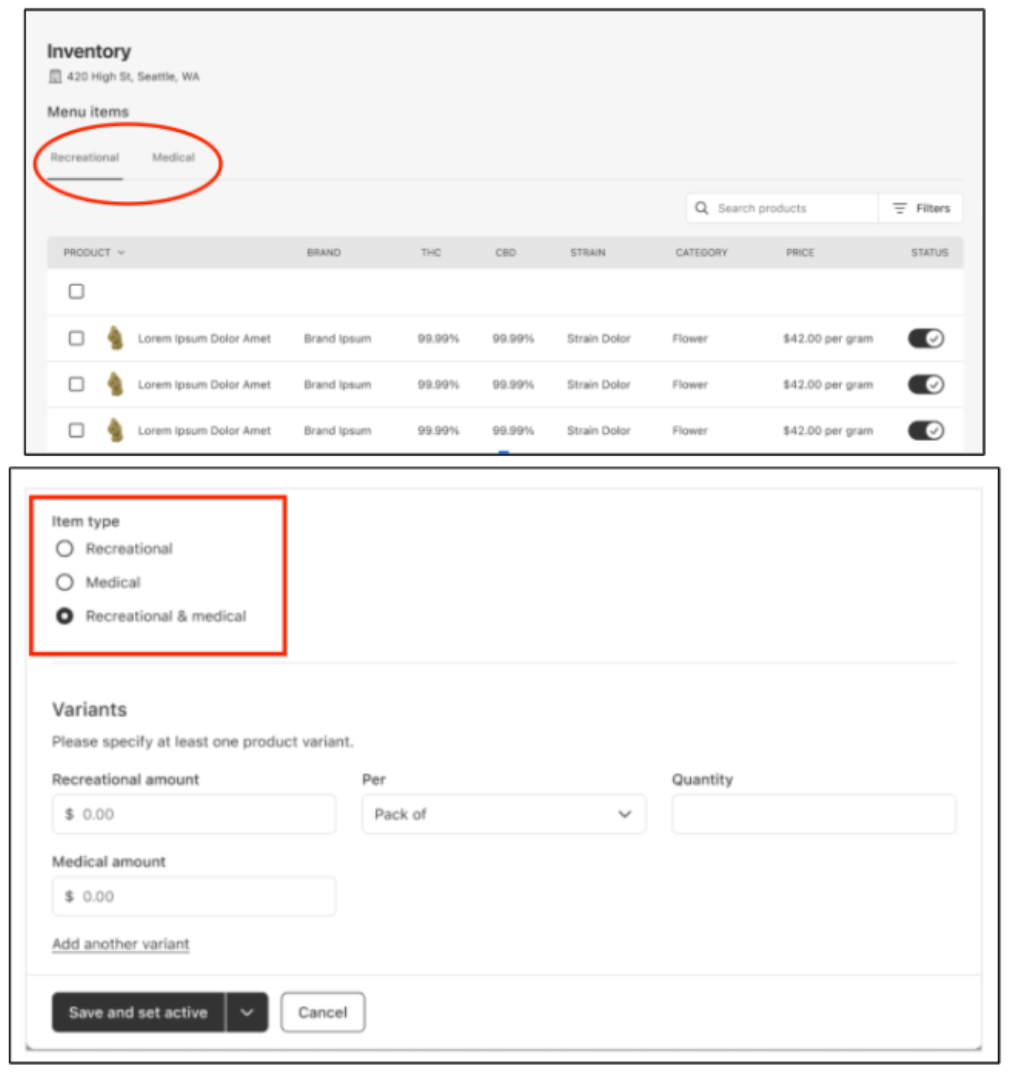 After manually confirming your items are on the correct menus, you will need to follow the steps in our Tax Guide to set up your tax estimates. To learn how to set up your tax, please check out this guide: Setting up Tax Estimates for your Leafly Menu
POS Connected Locations:
Before the location is switched to Dual Menus:
From the table below, these POS systems require no setup. These systems provide us with data that allows us to automatically assign inventory.
| | | |
| --- | --- | --- |
| 365Cannabis (Beta) | Biotrack via DataOwl | Blaze (Pull - Alpha) |
| CannaPoint | Cova | FlowHub |
| GreenBits | Indica Online | TechPOS |
| TechPOS | THSuite | Treez |
| Sweed | | |
From the table below, these POS systems require set up within your POS system through Med/Rec Room tagging. These systems assign inventory to independent "Rooms" as it is accepted into the system.
In order for inventory to be assigned to the proper menu:
Medical-only and Recreational-only inventory need to be bucketed into separate "Rooms".

If the inventory is available for medical and recreational customers, it can be bucketed into a third room which can be tagged as having both medical and recreational inventory.
For additional information on how to complete this setup within your POS, we advise connecting with the POS vendor directly.
| | | |
| --- | --- | --- |
| Biotrack via Headset | Leaf Logix (Pull) - locations need to be sharing the same API key | |
From the table below, these POS systems are not supported and inventory will be assigned as BOTH Med and Rec. We will automatically assign all inventory as being available on both the medical and recreational menus. Retailers can log into the menu manager and assign overrides for any inventory that should only be on a single menu.
| | | |
| --- | --- | --- |
| IHeartJane | Anthea | Blaze |
| Bloom | BudBytes | Cannasync |
| Dauntless | GlobalTill | GreenBits Menu Feed |
| Greenline | GrowFlow | Hyve |
| Island ERP | Krimzen | KlickTrack |
| Meadow | OMMPOS | POSaBIT |
| Proteus420 | Weave | Portal42 |
After the location is switched to Dual Menus:
Once this feature is live, you will want to take the following steps to ensure your Leafly menu is accurate:
After your new med/rec listing is live, please double-check that the items showing up on your recreational menu are correct and within state guidelines. In Leafly Biz, you can now see separate med and rec menus in Biz Menu Manager. You can manually adjust whether a menu item should be made available for purchase on your medical menu, recreational menu, or on both menus (see below):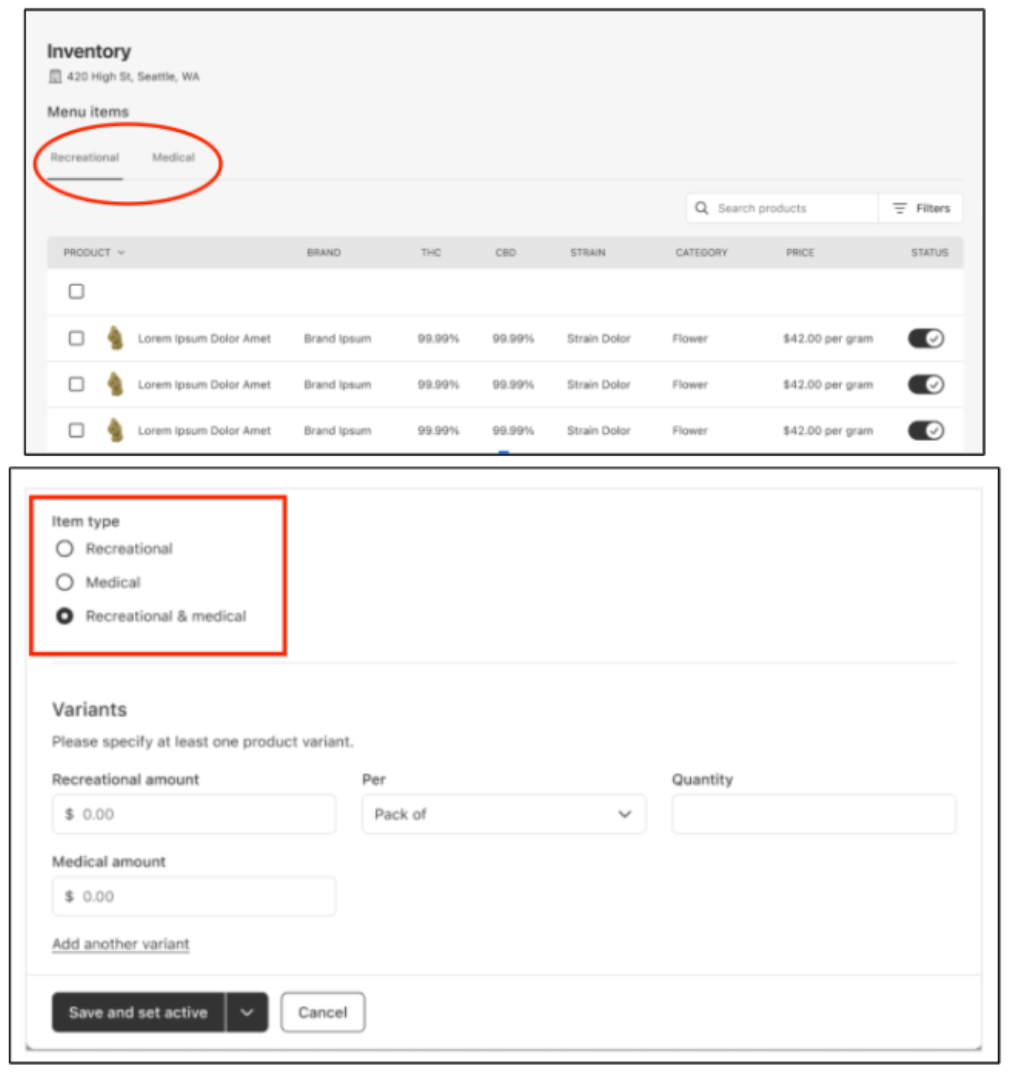 After manually confirming your items are on the correct menus, you will need to follow the steps in our Tax Guide to set up your tax estimates. To learn how to set up your tax, please check out this guide: Setting up Tax Estimates for your Leafly Menu
_______________________________________________________